OSXTools developed a nice tool to make your Hartmann Music remote control talk to your entire setup via MIDI and the free ReModellizer, a tool that converts your models at the press of a button.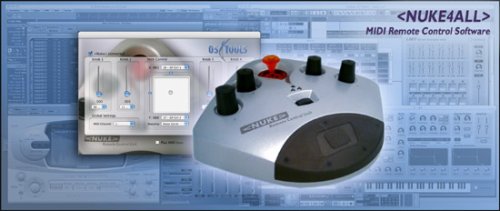 With the application you can use the remote in conjunction with any device that is capable of receiving MIDI control change commands, such as many popular VST and Audio Unit plug ins and instruments.
What's more, in combination with your favorite harddisk recording/MIDI sequencing software you can even record automated parameter movements of more than one parameter at one time directly from the . Custom assignable control change numbers let you set up your to fit your setup and working preferences and all settings are remembered across sessions so you are always "ready" when starting up the program.
The is an USB device that is attached to any USB port of your Macintosh. Originally developed by Hartmann Music as remote control for their NeuronVS software synthesizer the application lets you use this remote for any other synthesizer by translating the knob and stick movements into MIDI messages. For this to work, the application needs to be running in the background and your needs to be plugged in to any USB port on your computer.
ReModellizer.
OSXTools ReModellizer is a freeware application for MacOS X that allows displaying and changing the parameter set of a and model in an instant. The series of synthesizers process and reproduce sound models generated from sampled instruments via the ModelMaker application. During creation of the model, a parameter set is implemented that defines the behaviour and available parameters on the user interface. When creating models, changing the parameter set was a matter of re-analyzing the original samples along with their key mappings.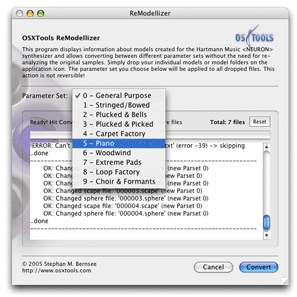 Until now: ReModellizer gives you the freedom to explore the effects of different parameter sets on your sounds without tedious analysis sessions by simply dropping the models on the application icon and batch converting them with a simple press of a button.
and the ReModellizer runs only on MacOS X 10.3 or higher and fully supports MacOS X Tiger 10.4 and higher.
For more information and to download the free ReModellizer visit the OSXTools website.