Steinberg has updated HALion Player retail and OEM versions to v3.2.0.1305.
Steinberg HALion Player puts the next-generation HALion 3 technology behind an easy to use, no-frills interface. HALion Player includes the full HALion 3 sound library and utilizes the award-winning, surround-capable HALion 3 playback engine. Capable of playing any files created for HALion 3, HALion Player offers an affordable, high quality sample content playback module.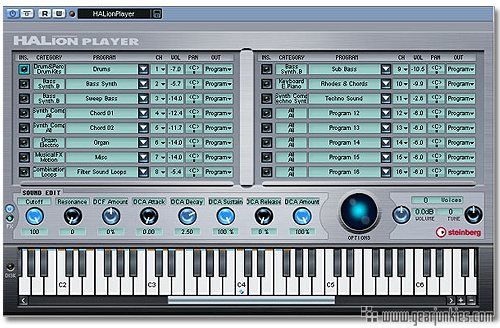 Improvements:
* Standalone version: MIDI input preferences were lost after re-loading standalone.
* Options Page: Better memory handling when changing preload time.
* Options Page: Fixed text and help-menu for Voice Buffers.
* Fixed: Slots would reset their settings if a new program were loaded.
* Fixed a DC offset problem which could lead up to 300db output peaks after long usage time.
* Fixed conditions in which hanging notes could occur.
* Fixed: CC66 Sostenuto could cause a crash.
* OSX (AU): Fixed: leaving the Program List opened and closing HALion Player could lead to a crash.
* OSX: Improved AU support.
* OSX: Fixed: Sometimes the AU plugin could loose disk-streaming ability.
More details and download links are available at CubaseNet.