Adobe today announced and shipped a new version of its award-winning Adobe Audition software for mixing, editing, mastering, and restoring digital audio.
A major new release, Adobe Audition 2.0 includes a flexible new low-latency mixing engine, the ability to record parameter changes in real time, and innovative new tools for audio visualization and frequency space editing.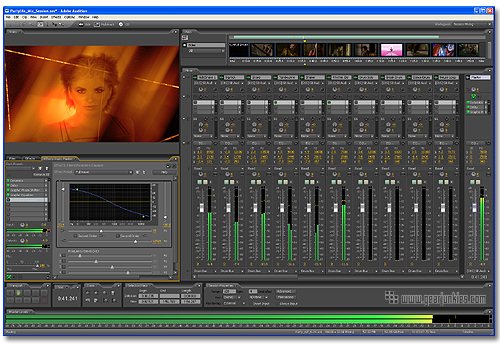 Audition 2 New features:
* Low-latency mixing with unlimited tracks: A new, powerful low-latency mixing engine.
* ASIO support.
* Recordable parameter automation: Move volume, pan, and effects controls as you listen, and record changes to your mix in real time. Changes appear as editable envelopes in the timeline.
* Hardware controller automation.
* Audio mixing sends and inserts.
* Real-time input monitoring.
* Quick Punch.
* Plug-in delay compensation.
* Effects chain on all channels, buses, and master.
* Improved recording performance: Enjoy faster performance and more economical use of hard-drive space by recording audio sessions directly to a final working file. Once recorded, your files can be saved immediately.
* Unlimited number of tracks in Multitrack View.
* Up to 80 live inputs.
* Broader video format support: Edit soundtracks for video and then export the enhanced video in AVI, MPEG, DV, or WMV format.
* Intuitive user interface: consistent with those in the latest Adobe video applications; with workspace panels that dock and group for optimal organization, as well as new phase analysis tools and a powerful new Mixer panel.
* Custom workspaces: Configure workspace panel arrangements for specific tasks and then save them for reuse. Preset arrangements for some tasks, such as multitrack recording and mastering, are included.
* Ready-to-use music beds: Cut to the chase when deadlines loom using 20 royalty-free, ready-to-play music beds in 15- and 30- second lengths.
* Thousands of uncompressed 32-bit music loops: Arrange your own music with professional results using approximately 5,000 32-bit, performance-based, royalty-free music loops in many styles.
* Improved video sync.
* Adobe Bridge: Browse, organize, and preview files, and then drag and drop what you need from Adobe Bridge. Search by or edit file info (XMP metadata) such as keywords, language, and format.
* XMP metadata support: Use XMP metadata to quickly identify, catalog, and find clips across multiple applications. Standard metadata fields are included, and custom metadata input panels can also be created.
* Audible scrubbing: Quickly find the audio you want to edit using two modes of audible scrubbing. Tape-style scrubbing enables you to find hard-to-locate edit points, and shuttle-style scrubbing allows you scan through your audio rapidly.
* Analog-modeled Multiband Compressor: Control dynamics, adjust loudness, and master your mixes with multiband precision. Give bass and drums punch while allowing your vocals to push through the entire mix.
* Mastering Rack in Edit View: Apply and preview multiple effects simultaneously when working with files in Edit View. Save frequently used rack settings as presets for convenient reuse.
* Spectral Frequency Display tools: Visually isolate and select sounds in frequency and time, and then clean up, modify, or apply effects to the selected sound using the Spectral Frequency Display. Isolate specific sounds and increase the visibility of lower frequencies.
* Lasso tool in Spectral Frequency Display: Easily select exactly the area you want during frequency-space editing, using the same familiar Lasso tool found in other Adobe applications.
* Spectral Pan and Phase displays: Analyze audio with powerful visualization tools including the unique Spectral Pan and Phase displays, which plot pan, phase, and frequency over time.
* Spectral color bar and resolution settings: Isolate a specific frequency range more easily by adjusting the Spectral Frequency Display color bar and resolution display settings.
* Logarithmic Spectral Frequency Display: Use the logarithmic display option in Spectral Frequency Display to increase the visibility of lower frequencies.
* Ability to save CD layouts: Quickly and easily save CD layouts – track lists and accompanying metadata – for convenient reuse.
* Tighter integration with Adobe Premiere Pro and After Effects: Select an audio or video clip in Adobe Premiere Pro 2.0 or After Effects 7.0 software, and then choose Edit in Adobe Audition to rework the audio.
* Broadcast Wave support: Work with third-party hardware and software systems that use the BWF time stamp field. During import, automatically insert the clip into your session at its time stamp location.
* Improved performance for editing: Experience improved performance while applying effects like Reverb and Time Stretch, and when displaying clips for editing in Spectral Frequency Display.
* Phase Analysis Histogram View: Use the histogram mode for an easier-to-read phase analysis view. See the percentage of your audio that is in phase and the overall phase content.
* Ogg Vorbis format support: Import and export Ogg Vorbis (OGG) audio files.
For more information on Audition 2.0 check out our productpage (link below) or visit the Adobe website.