Cakewalk, developer of the best-selling music and sound software, announces Sonar Power Studio 250 and Sonar Power Studio 660 integrated music production systems, the newest additions to the Sonar product line of feature-rich recording tools.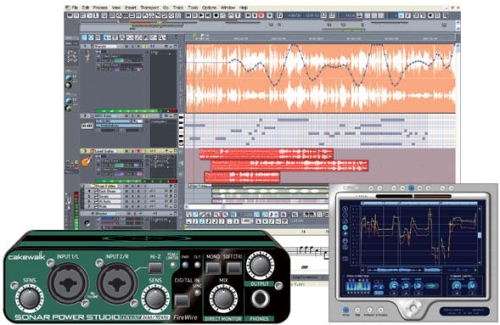 Sonar Power Studio music production systems are designed for musicians who need a complete production solution that couples high-quality hardware and software with the added benefit of portability, and without the compromise of LE versions of software.
Sonar Power Studio production systems contain the critically-acclaimed Sonar 5 Studio Edition and integrated Roland V-Vocal technology, paired with the high-quality Cakewalk SPS-66 24-bit/192 kHz FireWire audio/MIDI interface in Sonar Power Studio 660, and the Cakewalk SPS-25 24-bit/96 kHz USB audio/MIDI interface with Sonar Power Studio 250.
Both solution offerings take just minutes to setup, and provide a seamless, integrated production system that frees customers to create music whenever, and wherever inspiration strikes.
Real tools made simple
What sets the Sonar Power Studio production system apart from other products is the uncompromised feeling the user will get of complete integration between Cakewalk hardware and software, starting from the ease of the installation process, and continuing with the speed of starting a recording project.
-Sonar Power Studio ships with an easy to understand 4-panel Getting Started Guide with clearly illustrated instructions, one User's Guide covering both the hardware and software, and there is one installer for complete setup of all software and hardware drivers and components.
-Sonar Power Studio includes a special configuration of SONAR Studio Edition where all audio and MIDI device settings come pre-configured for the included Cakewalk hardware, so all the user has to do is enable a track and click "record."
-And because this is one integrated solution from Cakewalk, customers have one phone number to call in the unlikely event that they need tech support, rather than get bounced back and forth between separate hardware and software companies.
Sonar Power Studio 250
Sonar Power Studio 250 combines powerful audio software with reliable, great sounding audio hardware to form a complete, affordable, and portable USB music production solution.
-Record, edit, and mix unlimited tracks of audio and MIDI using unlimited instruments and effects
-Cakewalk SPS-25 audio/MIDI interface offering 2-In/2-Out 24 bit/96 kHz performance
-Take Sonar Power Studio 250 on the road with USB bus power
-Record pristine audio with 2 XLR/TRS combo jacks, professional-grade mic preamps, +48V phantom power, +4 dBu balanced output, and built-in analog limiter
-Get perfect vocal takes with Roland V-Vocal VariPhrase technology offering pitch correction, phrase adjustment, harmonization, and more
-Get great guitar tones with the included Amplitube LE guitar amp simulator
-Mix and record with 29 professional audio effects and 8 MIDI effects
-Perform and record with 5 built-in software instruments including the Roland TTS-1 and Roland Groovesynth
-Create backing tracks fast using MIDI groove clips and ACID™-format loops
-Achieve highest-quality mixes with Sonars cutting edge, end-to-end 64-bit double precision floating point audio engine
-Export to industry-standard formats for mix delivery and collaboration with other studios: WAV, Broadcast Wave, AVI, OMFI, QuickTime 6, WMA 9, MP3, and more
Sonar Power Studio 660
Sonar Power Studio 660 combines powerful audio software with reliable, great sounding audio hardware to form the perfect FireWire music production system.
-Record, edit, and mix unlimited tracks of audio and MIDI using unlimited instruments and effects
-Cakewalk SPS-66 Audio MIDI interface offering 6-In/6-Out, 24-bit/96 kHz performance or 4-In/4-Out, 24-bit/192 kHz performance
-Take SONAR Power Studio 660 on the road with FireWire bus power
-Record pristine audio with 2 XLR/TRS combo jacks, professional-grade mic preamps, +48V phantom power, +4 dB balanced input and output, and built-in analog limiter
-Get perfect vocal takes with Roland V-Vocal VariPhrase technology offering pitch correction, phrase adjustment, harmonization, and more
-Get great guitar tones with the included Amplitube LE guitar amp simulator
-Mix and record with 29 professional audio effects and 8 MIDI effects
-Perform and record with 5 built-in software instruments including the Roland TTS-1 and Roland Groovesynth
-Create backing tracks fast using MIDI groove clips and ACID™-format loops
-Achieve highest-quality mixes with Sonars cutting edge, end-to-end 64-bit double precision floating point audio engine
-Export to industry-standard formats for mix delivery and collaboration with other studios: WAV, Broadcast Wave, AVI, OMFI, QuickTime 6, WMA 9, MP3, and more