E-MU Systems have announced the new Proteus X2 Desktop Sound Module for PC, featuring TwistaLoop real time audio manipulator, Morph Filter Designer to create custom filters, Multi Function Generator for advanced LFO/envelope/arpeggiator programming, over 3GB of sounds, a host of new effects plug ins, and plenty more.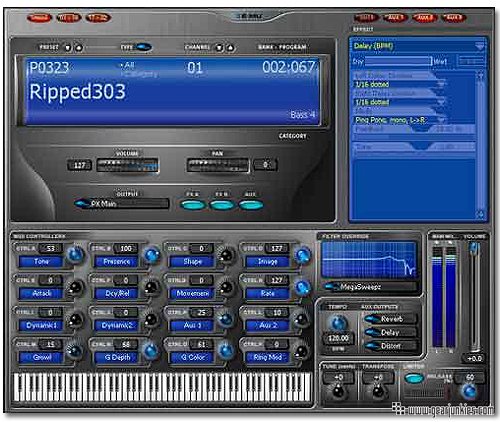 Proteus X2 builds on the sound quality of E-MU's 24-bit/192kHz sound engine and patented pitch interpolation, and can be run either standalone (64 MIDI channels) or as a VST instrument (16 MIDI channels per instantiation). It is equipped with a 2in/2out USB MIDI interface and over 3GB of sounds.
Main Features:
TwistaLoop – TwistaLoop is a tool that allows the real-time audio time expansion/compression of E-MU's TwistaLoop files using E-MU's patented pitch interpolation, as well as real-time switching between multiple loop points and regions.
Morph Filter Designer – The Morph Filter Designer provides users with filter creation tools that E-MU's sound designers have been using for years to create the legendary morphing Z-Plane filters. The Morph Filter Designer now allows the construction of all-new exotic filter types that can be morphed from one type to another in real-time.
Multi-Function Generator – The Multi-Function Generator offers advanced LFO/envelope/arpeggiator programming, providing three function generators per voice that are directly tied into Proteus X2's powerful synthesis architecture (over 100 parameters). These Function Generators have several key sync and direction modes that enable complex levels of control, and can be programmed to modulate pitch, filters, volume, retrigger samples or LFO's, change tempo or trigger other events.
Over 3GB of Sounds – Proteus X2 ships with a 3GB soundset that includes E-MU's 1.5GB grand piano, a special TwistaLoop performance bank, 24-bit drums and grooves, the complete Proteus 2000 soundset, and can be expanded with E-MU's extensive sound library.
Proteus X2 ships in May 2006 at an estimated street price of $199.99. Proteus X2 will also be available as an add-on for any E-MU Digital Audio System or Xboard USB/MIDI controller ($149.99), or as an upgrade for existing Proteus X owners ($49.99).
More info available at the EMU website.