Steinberg disclosed its news today at the NAMM. They announced new versions of WaveLab and Virtual Guitarist. Furthermore Steinberg announced its commitment to developing its audio software products such as Cubase and Nuendo for the latest generation of Intel-based Macintosh computers.
Virtual Guitarist 2.0
VG 2.0 offers a full 6.8 GB of authentic, editable riffs, parts and licks in 88 musical styles, Virtual Guitarist 2 offers a complete computer-based instrument that creates astoundingly realistic electric and acoustic rhythm guitar parts from scratch. Superseding both predecessor Virtual Guitarist and Virtual Guitarist Electric Edition versions, Virtual Guitarist 2 is shipping February 2006 for Mac OSX and Windows XP.
Among the highlights in the new version is the drastically expanded audio library. Virtual Guitarist 2 ships with an impressive 6.8 GB of high-quality library consisting of meticulously recorded performances by top studio guitarists. Including the entire content of both Virtual Guitarist and Virtual Guitarist Electric Edition and adding a wealth of new top quality content, Virtual Guitarist 2 offers a staggering total of nearly 1100 different parts across 88 styles including pop, rock, metal, reggae and country to name but a few.
Virtual Guitarist 2 also ships with an impressive range of virtual stomp box effects that have been painstakingly modelled to recreate effects like tube saturation, wah, flanger, distortion and many more. The new amp modelling section recreates the sound of both modern and vintage guitar amps, as well as microphone type and positioning.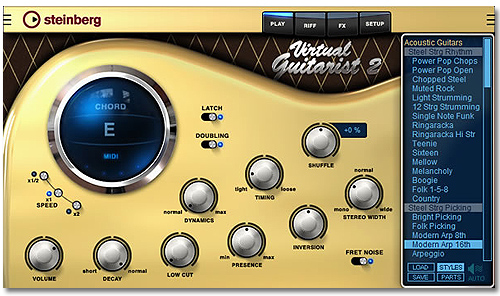 Wavelab 6
WaveLab 6 offers a range of exciting new features including the impressive new Spectrum Editor, enhanced editing and signal processing functions, advanced audio I/O handling and much more. WaveLab 6 will ship worldwide for Windows XP in February 2006.
The new WaveLab Spectrum Editor provides exciting new restoration and editing possibilities, including easy removal of disturbances and unwanted noise. This extremely versatile editor offers high-quality linear phase filters and flexible replacement options. The new "Surgical" mode allows "copy/paste" of either a whole region or the background 'ambience' of that region, as well as the application any processes to the selection – with full undo and redo functionality.
The wealth of new functions also includes the integration of hardware effect equipment within the mastering process, allowing engineers to combine the next-generation editing facilities in WaveLab 6 with the unmistakeable sound of their favourite analogue gear. The enhanced master section now features SmartBypass, a time-saving new facility for assessing how a plug-in alters sound textures by compensating for volume changes induced by the plug-in. Similarly new are a range of quality audio processors including a new sample rate converter and the advanced Dirac time stretching and pitch-shifting algorithm.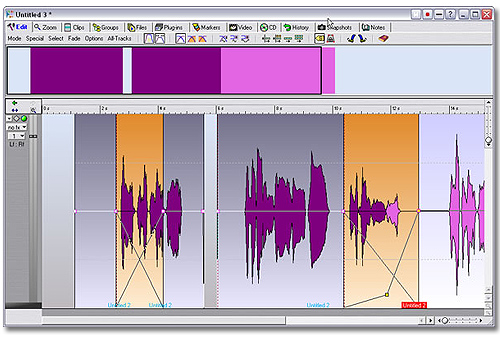 Compatibility to new Apple Mac platform guaranteed for future product versions
"Steinberg's development activity for this exciting new platform is continuing apace," says Steinberg's Director of Engineering, Markus Stehlik. "The latest version of our VST plug-in standard released at the NAMM show already supports the Mac/Intel hardware platform, and future Mac versions of our products will also support the new standard," Stehlik adds.
Steinberg has already engineered test versions of its Cubase and Nuendo host applications for the new platform ahead of a future commercial release for the Mac/Intel versions. "We're very pleased with our progress in the development for Mac/Intel and will be offering full support in later versions of Cubase and Nuendo in 2006," comments Claus Menke, Steinberg's Director of Product Management.