Cakewalk today announces the world wide availability of Rapture, the ultimate wavetable synthesizer for igniting the sounds of todays pop, dance, and electronic music. In addition, the company also announces the free Rapture 1.1 update providing Intel enabled Mac support, and usability enhancements. The Rapture 1.1 update will be available Q2, 2006.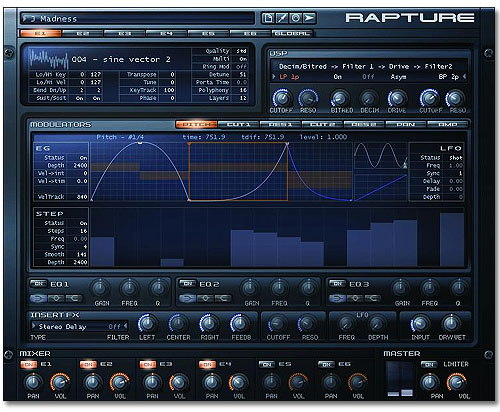 Following the recent successful launch of Dimension Pro, Rapture is the latest dual platform synthesizer to come from the Cakewalk Instruments team. In Rapture, musicians will find powerful and flexible wavetable synthesis in an inspired creation tool that enables vast sonic possibilities and experimentation.
Rapture is the first product of its kind, combining one of the most advanced and exciting modulation systems available, with the unrivaled non-aliasing Expression Engine™ a hallmark of the unparalleled sound quality and creativity found exclusively in the Cakewalk Instruments line.
1.1 Update to add Intel Enabled Mac Support — Rapture 1.1 will be a Universal application, which will run natively on the latest generation of Intel-based Mac systems, along with PowerPC-based Macs, and Intel-based and AMD-based PCs. The Rapture 1.1 update will also address a handful of usability issues that were reported after Rapture began shipping. The Rapture 1.1 update will be available Q2, 2006 from www.cakewalk.com as a free download for registered Rapture Customers.
Rapture Highlights:
* Wavetable synthesizer with cutting edge sound manipulation capabilities, well suited for Electronica and Urban music styles
* Non-aliasing Expression Engine for pristine sound quality
* Over 600 professionally-crafted sound programs
* Six fully-programmable, stereo sound-generating Elements
* Multi-waveform Oscillators with ring modulation
* Two 16-mode filters per oscillator with LoFi and Drive
* Over 40 Envelope Generators, LFOs, and Step Generators for superior parameter modulation
* Comprehensive MIDI Modulation Matrix
* Mix and modulate all Elements through global FX and dynamic Step Generator
* Superbly designed graphical envelope generators and LFOs for ease of use
* Expandable with native support for SFZ sample formats
* Mac formats: AU™, RTAS®, VSTi™
* Windows formats: DXi (32-bit & x64), RTAS, VSTi
Pricing and Availability:
The free Rapture 1.1 update will be available to registered Rapture customers at www.cakewalk.com Q2 2006. Rapture has a $199.00 U.S. (Euro 165), estimated street price and is available at select music and sound retailers around the world.