Imagine being able to touch your software like you can your hardware – Now You Can: KORE

Do you use a mouse to control all your software instruments and effects? Are you often constrained by the limitations and low resolution of conventional MIDI controllers? Is the assigning of parameters often awkward and inflexible? Is there a lack of parameter synchronisation and no concise overview of which parameter is assigned to which control?
The Solution: A Perfect Fusion of Software and Hardware
KORE combines software and hardware to form a single, integrated system. Gone are the days of complicated and often not entirely compatible combinations of MIDI controllers and sequencers or live set-ups.
The KORE controller delivers manual control for all your Audio Unit and VST plug-ins. Use the KORE hardware to adjust all automatable parameters and benefit from a real analog feel. The result: KORE turns your software instruments into hardware units.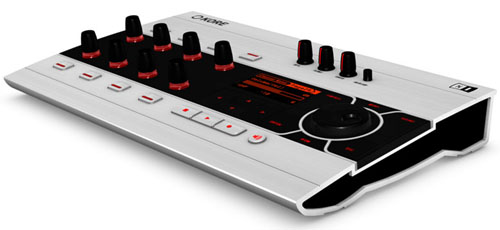 Advanced features, such as the touch-sensitive knobs, high-resolution protocol, bi-directional communication, audio and MIDI interface and context-specific display all contribute to placing this controller in a league of its own.
Read the rest of chapter three.
Chapter 4:
Next weeks chapter will focus on KORE's ground-breaking live performance features. For the first time ever it is possible to use the full power of your software instruments on stage.