Elemental Audio Systems have announced the release of an update to its Mac compatible plug-in analysis suite InspectorXL. This update affects all InspectorXL plug-in formats, VST, RTAS, and Audio Unit, and is recommended for all Mac users. The version 1.0.3 update fixes graphical issues experienced by some users and should be downloaded as soon as possible to ensure reliable graphical performance.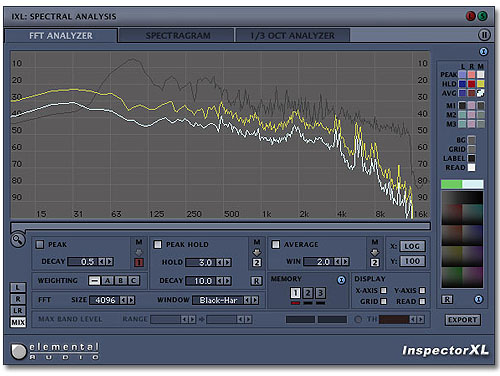 InspectorXL is a professional audio plug-in analysis suite featuring a total of six plug-ins integrating the following tools: spectrum analyzers, phase scopes, balance meter, correlation meter, stereo image mid-side meters, peak and RMS level meters (including K-system and IEC Digital PPM support), and more. Because InspectorXL's analyzers are separated into individual plug-ins, screen space and CPU usage is limited to those analyzers currently needed. Each InspectorXL plug-in offers a wealth of configuration options to control ballistics, viewing preferences, and the specific analysis data provided.
Price and Availability:
The update is available for download free of charge to registered InspectorXL owners. InspectorXL is available for purchase from the Elemental Audio Systems web site and is currently available at a reduced price of $89 USD (75 Euro).