IKs bass amp and effects plug-in with the legendary sound of Ampeg hardware. The worlds first bass amp and effects plug-in, only Ampeg SVX sports the legendary bass sound from the leaders in bass amplification and modeling technology, Ampeg. Ampeg SVX has ultra-accurate modeling of the most sought-after Ampeg gear, with unique DSM (Dynamic Saturation Modeling) technology, "Powered by AmpliTube", so bassists will immediately feel like they are really playing through the best high-end Ampeg hardware models.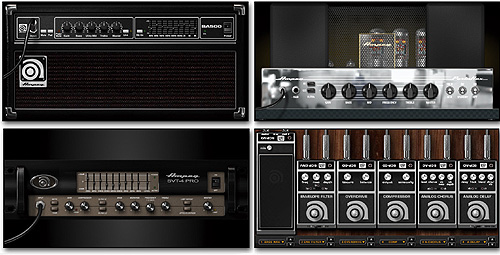 Ampeg SVX is a complete bass-rig plug-in with multiple amps, cabinets, stomps and a tuner. Mix and match between amps and cabinets of legendary Ampeg gear to produce 24 amazing bass amp combinations. Over 20 bass gear emulations, including signature classic Ampeg bass amp models and more are included. A complete all-in-one solution for bass recording and effects, Ampeg SVX comes stocked with hundreds of presets ready to go!
Ampeg SVX has an MSRP of $399/€329. All customers of AmpliTube 2 full or upgrade, AmpliTube 1 full, LIVE and LE are eligible for the cross-grade to Ampeg® SVX for just $249/€199(VAT excluded). Ampeg SVX is currently available from IK Multimedia and its distributor/dealer network worldwide.