Source Elements LLC has announced the release of Source-Live for VST making it fully compatible with Steinberg Nuendo and Cubase.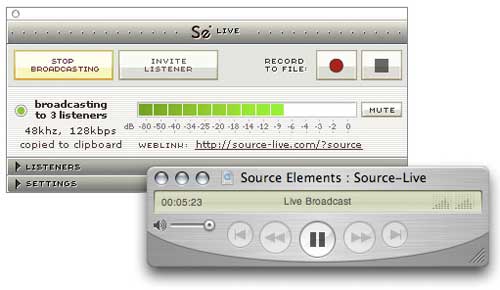 With Source-Live the output of your audio mix streams to multiple listeners simultaneously in real-time. Simply e-mail listeners a Live-link and they immediately connect to the stream in real time from anywhere in the world via QuickTime. Utilizing the most current AAC/mp4 algorithms, Source-Live provides listeners with true 24 bit audio quality and is 96k sample rate compatible.
Real-time 'listener management' and password protection within the plug-in allows users control of who's listening in on the session. Source-Live's 'Live-to-File' feature makes generating mp4 files and podcasting a snap. In addition to session monitoring, Source-Live can also be used to stream live events to a streaming server for true internet radio capabilities.
Source-Live changes the workflow of many productions by eliminating the need to email or ftp audio files for approvals. It allows for real time and interactive approvals, without setting up a complicated streaming server. Everything is taken care of directly within Source-Live.
Owners of Source-Live will be able to customize a browser based QuickTime GUI for branding and advertising opportunities.
Price and Availability:
Regularly priced at $ 395 USD, Source Elements has also announced a wide-scale Group Buy that could bring the price to as low as $200.