Blue Cats Peak Meter Pro 2.0 has been released. It has been rebuilt from scratch, and now includes a bunch of new unique features: you can now use it real time to monitor or control any MIDI-controllable software or hardware device.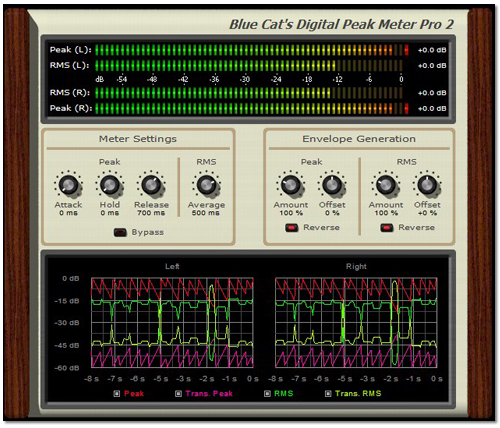 Improvements:
* The plug-in is now 100% real time thanks to the MIDI output capability: generated envelopes can be used to control any MIDI device or plug-in.
* Advanced MIDI control with customizable parameters curve response and MIDI learn.
* Skinnable User Interface with Blue Cat's Skinning language V1.2.1 support.
* RMS value
* Real time envelopes display
* All parameters can now be fine tuned thanks to a text-edit popup window that appears when double clicking on user interface widgets.
* Warning: because it now supports MIDI events, the DirectX plug-in may appear in the "Synth" or "DXi" category instead of "effects" in some hosts (such as Cakewalk Sonar). If it does not appear in you host, you might want to use our DXi Manager to de-activate MIDI features.
* Warning: this new version breaks the presets compatibility, and is thus installed as a new plug-in. If you have a previous version installed and do not want to keep it, just uninstall it manually.