Native Instruments today announced ABSYNTH 4, the fourth generation of its award-winning semi-modular software synthesizer that is renowned for its unique evolving sounds and textures.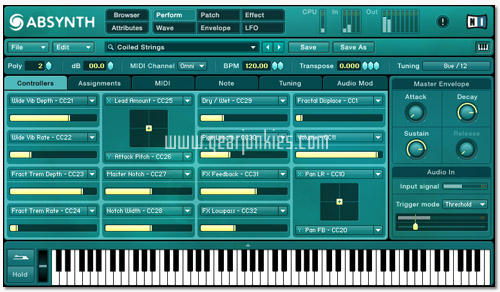 The new version offers extended sound design and performance capabilities through a new customizable signal flow; additional oscillator, waveform and envelope features; and a completely revised modulation concept. Numerous usability improvements, including a new
KORE-compatible sound browser, provide a more convenient creative workflow. With its refined combination of sonic flexibility and ease of use, ABSYNTH 4 strengthens its role as the leading sound-design synthesizer for innovative timbres and complex soundscapes.
The sonic capabilities of ABSYNTH have received a major extension in its fourth revision. The semi-modular signal flow is now customizable, allowing users to freely specify the combination and order of filter, modulator and waveshaping modules in each oscillator channel. A new "Wave Morph" function creates a wide range of new timbres through seamless interpolation between two user-definable waveforms, with real-time modulation of the interpolation readout leading to dramatic, highly musical results. A new "Sync Granular"
oscillator mode also adds an entirely new sound source, resembling a blown or strummed acoustic instrument.
Powerful envelopes are one of the signature features of ABSYNTH, and the fourth generation of the instrument offers significant enhancements. A new global Master ADSR envelope can be used to shape even the most complex sound in a quick and intuitive way. The individual multi-breakpoint envelopes can now be synchronized to a beat grid, creating sound movements that follow the global tempo of a host sequencer. With this new feature, ABSYNTH 4 effectively integrates the concepts of envelopes and step sequencers into a
powerful new tool for creative sound design.
A completely revised modulation concept in ABSYNTH 4 offers significantly increased real-time performance and automation options. Sixteen assignable macro controls can now manipulate any combination of oscillator, filter, modulation and effect parameters, with the additional option to convert any pair of controls into an XY field. "Audio Modulation" also now allows an external input signal to be used as a routable controller.
ABSYNTH 4 ships with more than 1,200 outstanding preset sounds, while a new integrated sound browser provides advanced categorization and search features. The ABSYNTH sound browser is now fully compatible with Native Instruments' KORE host system and its KoreSound format.
ABSYNTH 4 will be available in October 2006 for a suggested retail price of $ 339 / 299 Euro from authorized dealers and in the NI Online Shop. An update for owners of ABSYNTH 3 will be available for $ 119 / 99 Euro.
ABSYNTH 4 is also a part of the KOMPLETE 4 bundle, which will in turn be available as a free update for all owners of KOMPLETE CARE 2006.