Since 2003 ABL has established its sound as the industry standard. In 2007 ABL2 achieves important improvements in several key areas.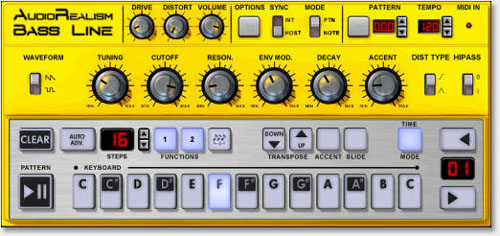 Amongst new features the most important thing is the sound: The bass is improved for less muddiness. The filter has been improved to incorporate subtile nonlinear effects for additional squelch. The distortion unit has been improved with less aliasing. The controls have been calibrated to better match the response of the original. Moreover several new features are present: The new pattern analyzer which can be used to edit patterns and will even detect patterns from audio files.
Improved features:
* MIDI Learn function now displays all mapped CCs
* Load multiple patterns at once
* Preferences dialog for easier setup
* Pattern section buttons are now MIDI assignable
* ABL2 imports the following file formats: RBS, PH and PAT
* PNG support for easier user skinning
* All ABL1 features remain
AudioRealism Bass Line 2 is expected to be released late 2006 / early 2007 with pricing to be announced. ABL1 users may upgrade for €25. All users that order(ed) ABL after October 1st, 2006 will receive the upgrade for free.