LinPlug is proud to announce the release of the Organ 3 Drawbar Organ. After two years of development LinPlug today presents the successor to the daOrgan series. daOrgan was produced for exactly 5 years and was sold more than 10,000 times.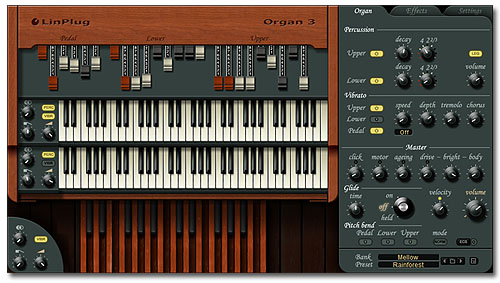 With Organ 3 LinPlug released a software organ emulation with all controls found on the original Hammond B3 as well as a sophisticated rotary speaker simulation. Detailed reconstruction makes it first choice for any music style. Many new features however open sonic possibilities never heard from any other organ before.
The main new features of Organ 3 are:
* now 3 individual manuals (Upper, Lower, Pedal)
* manual settings can be saved/loaded and copied/pasted
* Percussion
* separately adjustable for Upper and Lower
* adjustable volume
* adjustable pitch
* Vibrato
* separately switchable for Upper, Lower and Pedal
* adjustable Chorus effect
* adjustable "age"
* drive with adjustable brightness and body
* adjustable velocity response (from off to full)
* new Glide mode with "Held" mode and adjustable time
* per manual switchable Pitch Bend response
* now two effect units with either Rotary, Reverb, Delay, Chorus, Gator or LoFi effect, all programable
* Enhanced ECS with support for endless dials and predefined settings for the Native
Instruments B4D controller and the Doepfer d3c
* Controller-Sliders can be inverted (for use of e.g. Behringer
BCF2000)
* Mictotonal support of TUN files
* 12 Tonewheels to choose from including Farfisa and Vox waves
* ADSR envelope per manual
* Layer and Split modes with adjustable splitpoint
* +- 4 octaves transpose per manual
* switchable B3 compatibility
* foldback
* tonewheel sync
* drawbar volume
* percussion switch behavior
* drawbar continuous / step mode
* keyclick (adjustable intensity)
* motornoise (adjustable intensity)
System Requirements:
MacintoshTM: Mac OSXTM 10.2.6 or higher, 300 MHz or higher CPU, 256 Mb RAM
PC: Windows 95TM or higher, 300 MHz or higher CPU, 256 Mb RAM
Purchase:
The license fee is 149 US$ / 129 Euro including more than 100 presets and a comprehensive manual in English, French and German. The upgrade from daOrgan (any version) is 79 US$ / 59 Euro.