Image Line Software has announced the much anticipated release of its complete music production environment, FL Studio 7. Representing the culmination of more than 9 years of sustained development, FL Studio 7 is set to become the most flexible virtual music studio tool in the industry.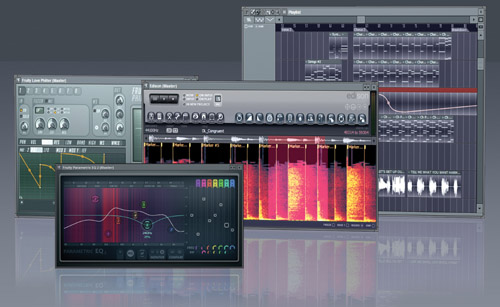 Key new features and changes:
* FL now supports track-based sequencing. Pattern Clips present sequence data in the method as Audio and Automation Clips.
* Edison replaces the Wave Editor – Edison is a fully integrated audio editing and recording tool complete with spectral analysis, convolution reverb + more.
* Love Philter – is a bank of 8 ganged filter units for total flexibility and creative filtering mayhem.
* Parametric EQ2 – introduces a mastering parametric EQ with spectral analysis.
* Event Automation can now be converted to Automation clips.
* Updated audio stretching engine for FL Studio & FL plugins (where applicable).
* Multi-core safe generators can now be threaded for performance gain on multi-core CPUs.
* Smoother audio 'record to disk' performance with high track-counts.
* Note OFF velocity support for the Piano roll, MIDI files, MIDI out & Sytrus.
* 'Smart Disable' mode for generator plugins, previously was effects only.
* A 'News Panel', to keep users updated with content and patches.
* Plugin windows can now be detached from the FL Studio desktop.
* DirectWave sampler now loads AIFF samples & includes a VST preset loader in auto sampler function.
* Sytrus gains multi-level 'Undo' a 'Cherry' phaser filter, 256 unit Harmonics editor (up from 128), automatable unison panning, volume and pitch.
* FPC acquires wave start/end point selection. SFZ export and loads AIFF, MP3 and REX files.
* Mono source recording. Mono ASIO inputs now handled by the mixer IN list.
* New user-definable keyboard velocity curve mapping in MIDI setup.
* Support for Apple Loops AIFF extensions.
FL Studio will be available in 4 different editions:
* FL Studio Express Edition: Download: $49 | Boxed: N/A.
* FL Studio Fruityloops Edition: Download: $99 | Boxed: $139 SRP.
* FL Studio Producer Edition: Download: $149 | Boxed: $209 SRP.
* FL Studio XXL Edition: Download: $361| Boxed: $449 SRP.