Native Instruments today announced AUDIO 8 DJ, a performance optimized USB 2.0 audio interface specifically designed for TRAKTOR 3 and other professional DJ software. Also introducing Traktor Scratch, a new professional DJ system designed to be the ultimate computer based DJing solution for digital music files with turntable and CD control.
With its flexible 8-in/8-out configuration, two studio-grade phono preamps, extremely low latency, and a compact and highly robust aluminium casing, AUDIO 8 DJ fully meets the demands of professional "digital DJs" and can act as the centerpiece of a wide range of different performance setups in club, stage and studio environments.
The AUDIO 8 DJ audio interface offers four stereo inputs, two of which are equipped with software-switchable high-quality phono preamps, making it possible to incorporate nearly any combination of turntables, CD players, drum machines and other instruments into one powerful setup. The interface also provides four stereo outputs, which ideally complement the four full-featured playback decks in TRAKTOR 3 when using the software with an external mixer. All audio connections are in RCA format to allow for easy connection with turntables, CD players and DJ mixers.
AUDIO 8 DJ features a microphone input for voice-overs, a ground point for turntables, and a MIDI I/O to synchronize external MIDI gear and connect performance controller hardware. Status LEDs on the interface provide an instant overview about input levels and other vital system parameters, while several safeguard features prevent potential operating errors or accidents from interrupting a performance. AUDIO 8 DJ is completely bus-powered,
making a cumbersome AC adapter unnecessary.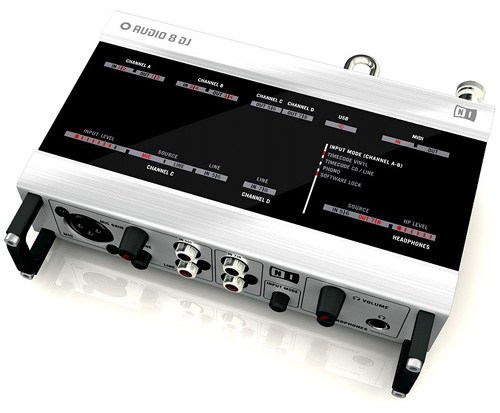 The interface is equipped with studio-quality 24-bit/96 kHz audio converters from Cirrus Logic that provide crystal-clear treble and rich bass response. AUDIO 8 DJ utilizes Native Instruments' fourth-generation audio driver technology with low-latency operation down to less than 4ms, which enables the high degree of precision and responsiveness that professional DJ performances rely on.
AUDIO 8 DJ ships with TRAKTOR 3 LE, a compact version of Native Instruments' TRAKTOR software that offers two decks with high-quality time-stretching, an integrated mixer, performance effects, loop and cueing functions, a powerful track database and Beatport integration. The AUDIO 8 DJ interface is also the centerpiece of Native Instruments' new timecode-controlled TRAKTOR SCRATCH DJ system that is available as a separate product.
TRAKTOR SCRATCH provides supreme audio quality and performance, high reliability, straightforward setup and operation, and a host of creative features that allow DJs of all styles and genres to go beyond the limitations of traditional DJ equipment while maintaining the intuitive hands-on control method of vinyl.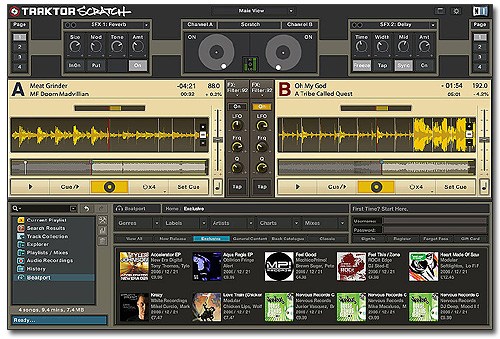 The TRAKTOR SCRATCH system consists of a special version of Native Instruments' groundbreaking TRAKTOR software, the AUDIO 8 DJ hardware interface, a pair of innovative "Instant Connect" multi-core cables, and a set of time-code vinyls and CDs. The system utilizes a new high-resolution timecode technology optimized for maximum responsiveness and precision, with separate timecode versions for vinyl and CD guaranteeing optimal performance in any environment. TRAKTOR SCRATCH accommodates all styles of DJing up to
the most demanding scratch performances, with minimum "needle-drop" and seek times.
The included AUDIO 8 DJ hardware interface connects to the computer via USB 2.0, and connects the system to the DJ mixer, turntables and CD players. The interface provides pristine audio quality due to studio-grade 24bit/96kHz audio conversion, and allows for true low-latency operation with extremely short response times. AUDIO 8 DJ offers four stereo inputs and outputs as well as microphone input and MIDI I/O, enabling a wide range of stage and studio setups.
The TRAKTOR SCRATCH software provides powerful creative features that can supercharge any DJ performance, including ultra-precise on-the-fly loop functions, key lock and pitch shifting based on Native Instruments' high-quality TRAKTOR time stretching technology, and powerful performance effects that include analog-modeled filters for both decks as well as two beat-synced performance effect sections that can process both the internal decks as well as external input signals.
AUDIO 8 DJ will be available in April/May 2007 for a suggested retail price of USD 449 / EUR 399 from authorized dealers and in the NI Online Shop. Owners of AUDIO 8 DJ will be eligible to purchase TRAKTOR 3 at a discounted upgrade price of USD 119 / EUR 99.
TRAKTOR SCRATCH will be available in April/May 2007 for a suggested retail price of USD 669 / EUR 599 from authorized dealers and in the NI Online Shop. Owners of FinalScratch 1.5, FinalScratch 2, and Serato Scratch Live will be offered a special discounted crossgrade for TRAKTOR SCRATCH. Details will be announced at the time of the product release.