d16 Group announce that their second plugin (Drumazon) just has been released. Drumazon is an emulation of the classic 909 beatbox, taking its sound a step further with all the original functions and many additional features.
Since first prerelease version was announced we made big changes: improving the instruments' models, adding new controls and a lot of new features, fixing last bugs and much more. Take a look at GUI to see what has been changed.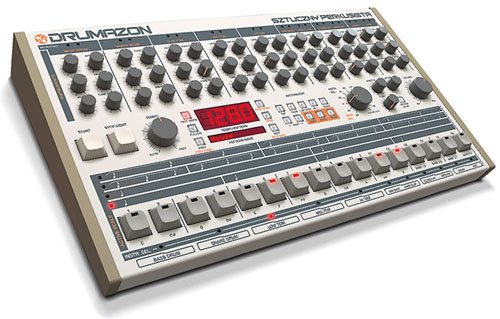 Full features:
– truly emulated instruments' synthesis
– perfectly scaled knob ranges with few modifications enlarging spectrum of the sounds
– enhanced control of instruments' sound
– dynamic signal routing from instruments to outputs
– user defined plugin outputs settings
– mutes/solos for each instrument (affect triggering not just the signal)
– fully controllable via MidiCC
– quick midiCC assignation with MidiLearn function
– many ways of controlling the device:
– external mode (note mode),
– internal sequencer (pattern mode) with 3 submodes
– external mode:
– midi map equivalent with the classic drum machine's map,
– midi tune and velocity controls instruments' levels and tunes
– internal sequencer:
– 8 banks with 12 patterns per bank,
– each pattern up to 16 steps of length,
– each pattern defined with one of four available measures,
– each step can be defined normal or flamed and accented or not,
– shuffle mode,
– flam mode,
– tap mode,
– chain mode,
– Shuffle, Flam and TotalAccent values defined globally and per pattern,
– Scale function and intelligent Rescale (automatically stretches pattern to the chosen measure),
– built in Randomizer (selection of instruments to random, steps to be affected, frequency of the randomized notes and more),
– patterns import/export via human readable xml files,
– two modes of synchronization:
– precise synchronization to the host tempo,
– synchronization to internal clock – tempo controlled in the range 30-303 BPM (+-0.1)
– individual presets per instrument with preset manager to easy control
d16 Group also announce that they have set new prices for their products:
– Phoscyon costs now 59 Eur (previously was 85 Eur)
– Drumazon costs now 129 Eur (previously was announced with 149 Eur)
Both products are available also in bundle with total price 159 Eur.