Cakewalk has released version 1.1 of Rapture. It now also has native x64 support.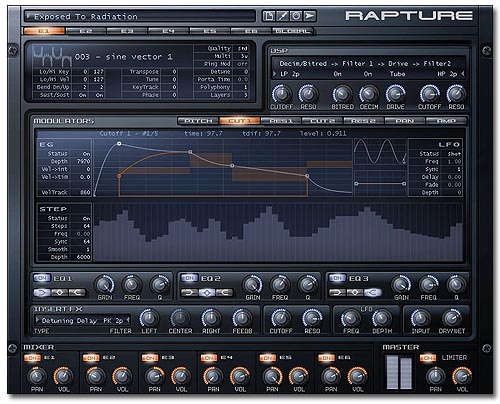 Rapture Highlights:
* Wavetable synthesizer with cutting edge sound manipulation capabilities, well suited for electronica-related music styles
* Non-aliasing resampling engine for pristine sound quality
* Over 600 professionally-crafted sound programs
* Six fully-programmable, stereo sound-generating Elements
* Multi-waveform Oscillators with ring modulation
* Two 16-mode filters per oscillator with LoFi and Drive
* Over 40 Envelope Generators, LFOs, and Step Generators for superior parameter modulation
* Comprehensive MIDI Modulation Matrix
* Mix and modulate all Elements through global FX and dynamic Step Generator
* Superbly designed graphical envelope generators and LFOs for ease of use
* Expandable with native support for SFZ sample formats
* Mac formats: AU, RTAS, VSTi
* Windows formats: DXi (32-bit & x64), RTAS, VSTi
Most important changes are:
– Native Windows Vista Support: Rapture is now fully Windows Vista compliant, in all Vista editions
– 64-bit Windows binaries in DXi and VSTi formats: Rapture will now install the 64-bit VSTi in 64-bit Windows versions (XP, Vista), for use in compatible 64-bit VST hosts (such as SONAR)
– Universal Binary compatible components for all formats
– Stand-Alone Microhost (Windows 32-bit/64-bit, OSX): Rapture can now be used as a Stand-Alone instrument thanks to the included Microhost
# Updated RTAS format: The ProTools RTAS version of Rapture has been updated to version 7.3 (Fully compatible with ProTools 7.3 on Windows and OSX).
# Multiple stage DSP section
# Six new DSP transforms have been added: Soft Clip, Hard Clip, Warp, Break, Rectify and Width.
# There are now 14 different routing options, including many serial and parallel configurations.
# Rapture now features another variety of filters, State-Variable. They come in Low Pass, High Pass, Band Pass and Band Rejection flavors.