As thrilled as Soundtoys are by all the love for Decapitator, they also thought it would be even better to create a new tool designed for the subtler side of analog. So meet Juice™, their upcoming analog input channel modeling plug-in.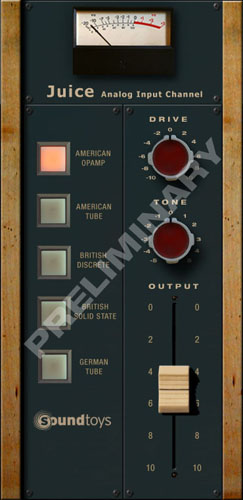 From their ToyBox blog:
"We learned so much developing the modeling technology that's in Decapitator, and plan to take it even further with Juice. We've also collected a ridiculous amount of rare and high-end analog input channels here in the lab, and need to put those to good use.
Our plan for Juice is to develop 4 to 6 entirely new input models based on console input channels and/or mic pres, running at normal to slightly driven levels (just the preamp part, not the EQ… yet.) And with this one we're going to hold our destructive urges in check (sorry, no punish button!) to give you just the right amount of sweet juicy goodness for all of your tracks.
We'll have more to say soon, but here's a look at the first draft of the interface for Juice."