IK Multimedia and Sonic Reality are pleased to introduce DrummerTracks™ – a new series of style-based full-length drum backing tracks performed by top studio drummers. Unlike loops, DrummerTracks are full song drum tracks, recorded in world-class studios by sound powerhouse – Sonic Reality, and designed for use as play-along tracks for the AmpliTube range of software and mobile apps.
DrummerTracks offer guitarists, bassists and other musicians a new way to play along with drum grooves. Unlike other play-along grooves, DrummerTracks™ have been produced to sound exactly like classic albums of yesterday and today, capturing the nuances of the performance and providing the real feel of playing with a live drummer. Each package was produced using the same "state of the art equipment" and sometimes even the original drummer and producer/engineer!
DrummerTracks are like playing along to the drum tracks extracted from your favorite albums. A wide variety of styles ranging from Classic Rock to Progressive Rock to Blues, Jazz, Funk, Soul, Country and more are available. It's total inspiration wherever you go. Fills and variations for verses, choruses and/or challenging jam sections happen automatically – just like they would with a live drummer.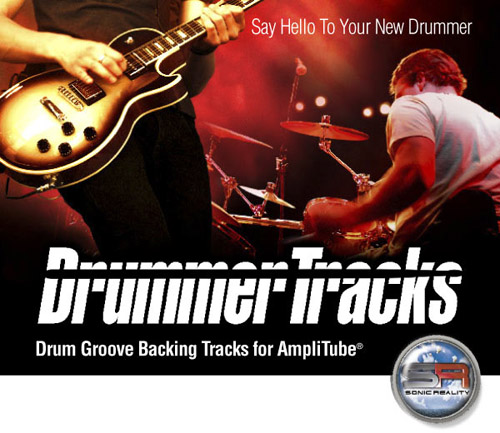 3 ways to use them: You can import DrummerTracks into the AmpliTube SpeedTrainer section in the standalone versions for Mac/PC; load them into the songs or recorder sections of AmpliTube for iPhone/iPod/iPad; or import them to a track in your preferred DAW sequencer – simply hit play and start rocking! Use them for practicing, playing, jamming, composing or just having fun! They're an ideal source of instant inspiration for your professional, home or mobile studio.
Registered users of AmpliTube for Mac/PC and AmpliTube Mobile products (currently AmpliTube for iPhone/iPod Touch and AmpliTube for iPad) will receive one Free DrummerTracks audio file in their IK User Area to experience the difference a full- length drum track can make on their playing and composing. More details may be found on the IK Multimedia website.
Each title includes 10 or more drum tracks in 44Khz/16 bit Wave format, and over 500MB of samples:
– 60's Rock
– 70's Rock
– Funk Soul
– Progressive Rock
– Pop Country
– Big Band
– Motown
– Led Grooves
– Dan Grooves
– Back Beats
Pricing and availability: DrummerTracks titles are available for only $29.99/€19.99 each (excluding taxes).