Blue Cat's MB-5 Dynamix multiband dynamics processor is the most flexible audio tool Blue Cat have ever released: check out its 5 independent powerful processors and its cross-band side chaining capabilities, you won't find these elsewhere! It is available as a single plug-in or within the refreshed Blue Cat's Master Pack and All Plugins Pack bundles, or the brand new Energy Pack dynamics plug-ins package. As a side note, it is also their first plug-in that supports the 64-bit VST format on Mac.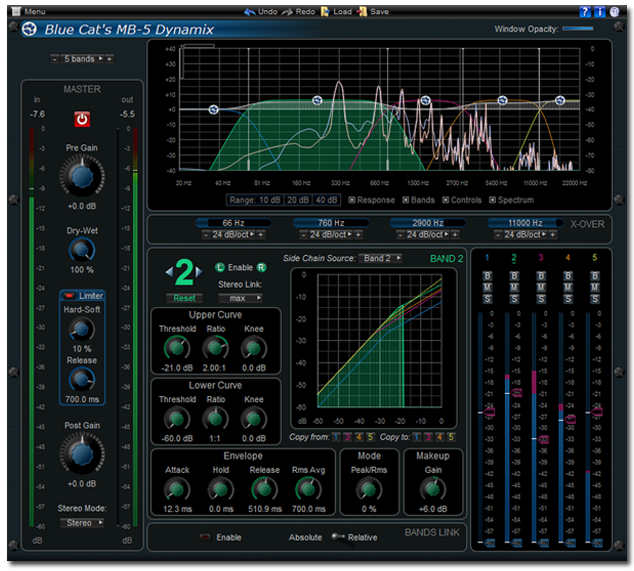 Main Features:
Full featured multiband dynamics processor: compressor, gate, limiter, expander, waveshaper.
Up to 5 bands, with crossover filters from 6 to 60 dB/Oct for optimal separation.
Unique envelope routing capability for cross-band dynamics effects (one band may trigger another).
Dry/wet control for parallel processing ("New York Compression").
Stereo or mid-side processing with multiple channels linking options.
Post brickwall limiter or waveshaper.
Complete Visual feedback with real time response curves and levels display.
Easy copy/paste settings between bands.
Side chaining made easy: a unique way to perform multi-band side chain compression, ducking, gating and much more.
Plug-in window transparency management.
No latency.
This new plug-in and the related bundles are available at a special introduction price (up to 20% off) until the end of the month. Existing Blue Cat Audio customers will benefit from even larger discounts (sent by email).