Softube is shipping the TSAR-1 Reverb for native (VST/AU/RTAS) platforms. TSAR-1 Reverb is available today at the Softube web shop and at authorized Softube dealers at a price of $329, excl. VAT.
The TSAR-1 Reverb is not an emulation. It's not a stock design. It's not a static snapshot of a space. The TSAR-1 is a powerful, modern reverb algorithm. It's alive and vibrant, it's gentle and dreamy, and above all – it's natural and believable. The TSAR-1 is the better-sounding alternative to the established, traditional reverb products. At a fraction of the price.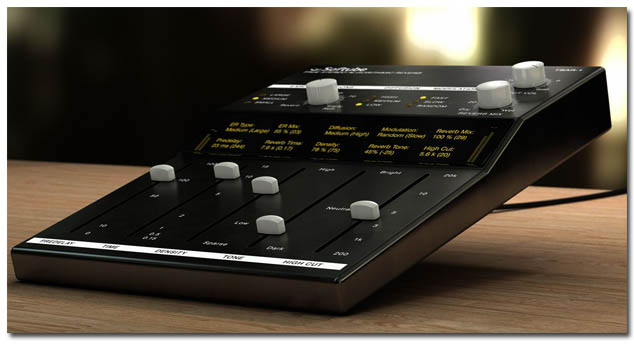 The True Stereo Algorithm inside the TSAR-1 is what gives it its magic. The strength lies in its sophisticated sound and versatility, no matter whether it's used on strings and brass or rock drums and lead vocals, it always shines. All this while still having a comprehensive and easy-to-use interface that is unparallelled in other high-end reverb products.
With the TSAR-1 Reverb, Softube establishes itself not only as an industry leader in simulation technology but now also as a leader in novel algorithms. Like all Softube products, the TSAR-1 benefits from Softube's commitment to excellent quality, stellar performance and extraordinary customer support.
TSAR-1 Reverb is available from Softube's new More Is More Webstore. A fully functional 20 day demo can be downloaded from www.softube.com.