Cakewalk have a long history producing DAW software. So with this Sonar 8.5 version you'll know for sure that you'll get a well thought quality product that proved itself in the past. Myself I have used Cakewalk in the past several times and I have to admit it worked well for me. In Europe their market share is limited but in the US it's quite larger mainly due to the fact that guitarists seem to have a sweet spot for Cakewalk for ages. Competition is rather extensive so I'll be very blunt at times.
Installation takes quite some time since you'll end up with a whopping 15Gb of new data with the majority being samples and loops. I used that time to read through the paper manual and to me it seemed well written, very helpful and informative.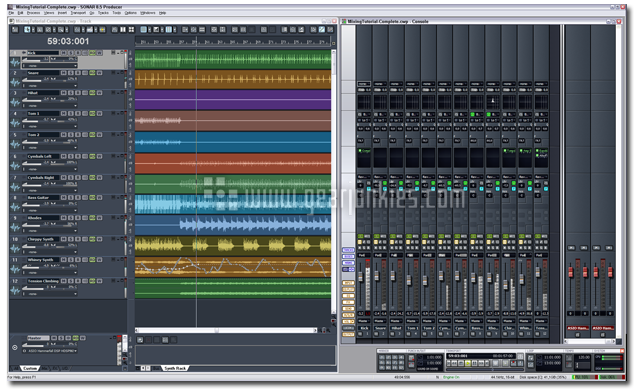 Starting it up for the first time also means you'll have to set it up in your personal favor. I do like the way you can set it up and can change pretty much everything. Except for the Synth Rack that is stuck to the bottom of the arranger window. Keep in mind to scan all the VST's that you've installed otherwise the list of plugins and synths are just the ones that got installed with Sonar. The arranger window itself is your typical sequencer window that shows all the different midi and audio tracks. It's easy to use and the overview is as it should be. In addition you have different views for editing the piano roll, events, step sequencer, staff, loop constructions and lyrics.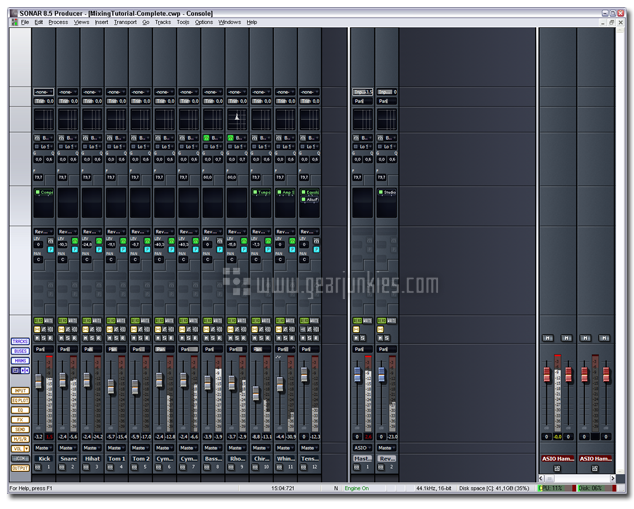 The Console view shows all the different tracks, busses, ins and outs and looks like the controller surface of a digital mixer ended up being one of my favorites. Others are the step sequencer and integrated arpeggiator
Matrix view
This is a rather unique concept of enabling users to make arrangements with the use of graphical aid. It shows a grid where you can assemble all the different parts of a song. To me it seems to be a simplified version of arranging in Ableton Live.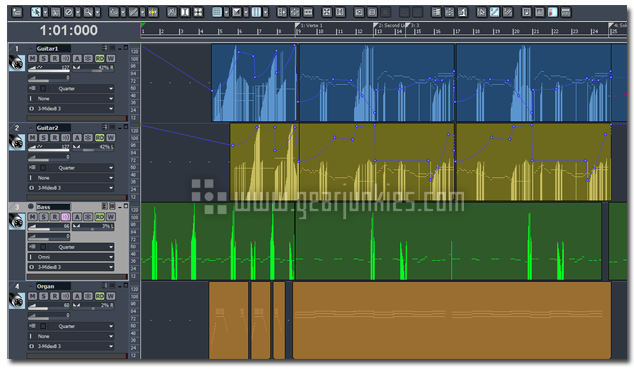 Plugins
Sonar Producer Edition (PE) has quit a long list of effects and synthesizers. It supports both VST and DirectX types which is a plus. The majority of those are from independent developers which either licensed their plugins or got embraced as a Cakewalk developer altogether. The collection itself proves to be good value for money. For me a spoiled end-user that keeps up with all the latest developments I have to admit that the majority of the plugins are very good but not top notch. Still more than good enough for the majority of the professionals out there since they have proved their value in the past.
Examples are:
VX-64 Vocal strip
PX-64 Percussion strip
VC-64 Vintage Channel 1.5
LP-64 EQ linear phase mastering EQ
LP-64 Multiband linear phase multiband limiter/compressor
TL-64 Tube leveler
TS-64 Transient Shaper
Audio snap
V-Vocal
Session drummer 3
Dimension Pro
Truepianos Amber
Z3TA+
Rapture LE
Pentagon I
Guitar Rig 3
Long favorite of mine Z3TA+ still does deliver. So does Session Drummer 3 which is ideal for putting realistic sounding drums together fast. The Truepiano was a bit of a letdown for me since it sounds rather stale even if you want to use it as a rock piano.
Arranging
I've made a couple of songs with Sonar and after getting used to the GUI I manage to get working with it and to me it's a no nonsense easy to use interface. You do have the windows clutter like many other sequencer but the arranger view allows you to keep your eyes on the arrangement. You can use several controller interfaces but the default list is rather limited.
During one song I did notice some tiny timing issues with my NI Maschine plugin which I could get rid off after closing the application and reloading the song. I also got an audio error message loading the VC-64 plugin but the application never did crash on me. So all in all there are some quirks but not many.
Conclusion
Sonar 8.5 PE is a mature sequencer with good value for its money. It seems to be geared towards the guitarists/Rock musicians. It offers a wide variety of plugins that do the job. To dance oriented musicians it does seem to be out trumped by some of its competitors in regards of workflow and ease of use.
Update
The same day we published the 8.5 version review, Cakewalk released a new update of their Sonar software called X1. Available as Producer, studio and Essential. With this new version they seem to have addressed the workflow and GUI issues. Smoother interface and ultimate configuration of your GUI with even multi-monitor support. Drag and drop works together with the new browser so that it's easier and faster to work with.
Although this should be a huge improvement I'm still wondering if it's enough to compete with other DAWs since competition is pretty stiff at the moment. It's up to personal taste as well but for current Sonar owners I'd definitely recommend the upgrade.
The producer version has the ProChannel channel-strip with a 1176 style compressor, 4-band vintage modelled EQ and a tube saturation effect. I think Tube saturation in DAWs will become the new craze in DAWs this year! Be aware that the system requirements got changed as well. Intel Core 2 Duo E8200 2.67 GHz/AMD Phenom Quad Core 9750 2.4 Ghz with 2Gb memory are the minimum requirements.