MixVibes, leading company in DJ technologies for over 10 years announces the release of a new update of CROSS, digital DJ solution for professional and advanced DJs. The CROSS 1.5 update brings major improvements to this powerful solution.
CROSS now comes with 3 carefully selected and designed effects. Faithful to our trademark simplicity, all the effects in CROSS are controllable with one single knob and were tweaked to sound smoothly from gentle to coarse. Interact with your music and work new transition techniques with the state of the art Delay, High-pass Filter and Flanger. Each one comes in 2 versions to suit your mood: mild or wild!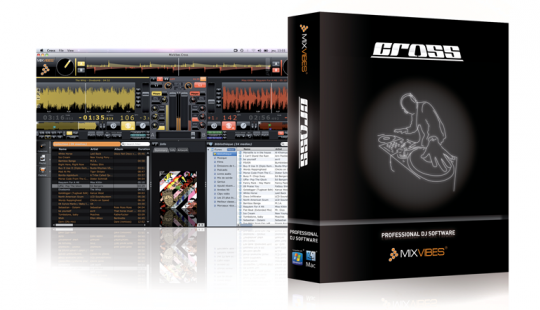 CROSS 1.5 includes an all new BPM analyzer. This tool offers outstanding accuracy and the best results even on all styles of music. CROSS 1.5 defines a new standard on the DVS market in terms of BPM detection. Use this tool to classify your music collection by BPM and discover new natural transitions between your tracks.
The new update provides major enhancements and fine tuning of the MIDI section. The software is now compatible with the advanced 14-bit MIDI protocol used by the top of the notch DJ controllers of the market. CROSS now includes 35 MIDI mappings including Denon DN-S3700, Novation Dicer, Vestax PMC-05ProIV, Vestax VCI-300/VCI-300MKII, Allen&Heath Xone DX …
A MIDI Hot plug function allows the DJ to connect on the fly any MIDI controllers. CROSS 1.5 is also equipped with an output Limiter to ensure a perfect sound quality and avoid all digital saturation. The limiter interacts with the master output and compresses the frequencies that cause saturation ensuring maximum volume with outstanding sound quality and no hiss or rumbling in the speakers!
Last but not least, you'll be able to trigger twice as many Locators from now on. CROSS 1.5 features 6 savable Locators for more control over your live mash-ups and on the fly remix performances.
In a few words, CROSS 1.5 answers the requests of users in the MixVibes' community with a new set of effects, more locators and MIDI mappings for high end DJ controllers; while constantly remaining focused on the core quality of the software, thanks to enhanced BPM detection, an output limiter and 14-bit MIDI compatibility.