Transform your iPad, iPhone or iPod touch into a portable DJ rig with Numark's iDJ Live controller. Numark brings your iPad DJ'ing to a whole new level.
PRO MEETS PORTABLE
iDJ Live is the easiest way to become a DJ with your iPod touch, iPhone or iPad. This iOS-DJ controller is perfect for anyone from Pro DJs to music lovers who have never tried DJing before. The iDJ Live system harnesses the processing power of your iPad, iPod or iPhone and enables you to DJ parties, events and even clubs using the music that is already on your iPod via Core MIDI-enabled apps.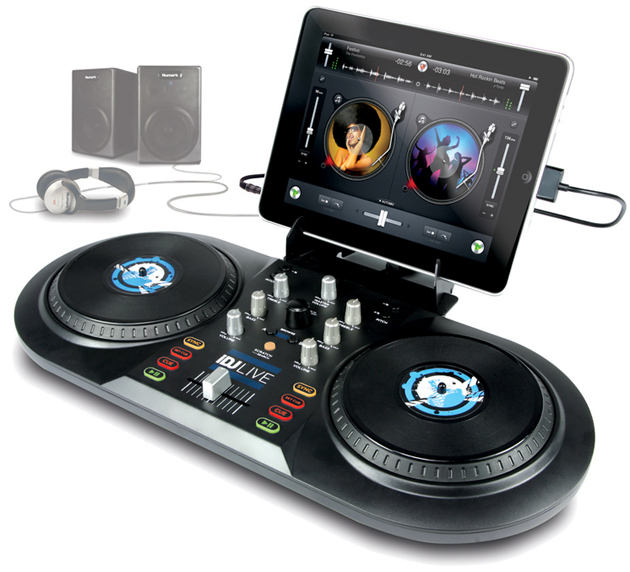 YOU ALREADY KNOW YOUR WAY AROUND
You can mix and scratch your music, including your iTunes Music Libraries using two large performance platters and a central mixer section with a crossfader, buttons and knobs. iDJ Live is laid out in to carefully recreate the two-decks-and-a-mixer setup that professional DJs prefer. Just load your tracks to either Deck A or Deck B, and then control it, cueing up the start point, performing advanced transitions and even scratching.
PLUG IN AND START THE PARTY
iDJ Live comes complete with iPad stand and custom headhpone/speaker audio cable so connecting to your sound system of choice is easy. Connect your iPod touch, iPhone or iPad in seconds using the built-in dock connector. Once these two connections are made, just switch the party into overdrive.
Get serious with your iPod, iPhone or iPad with iDJ Live.