Spectrasonics' flagship virtual synth has received a major new update that includes a wealth of new features and additions, the most prominent being the inclusion of a fantastic new interactive interface called "The Orb" which delivers real-time synthesis manipulation capabilities.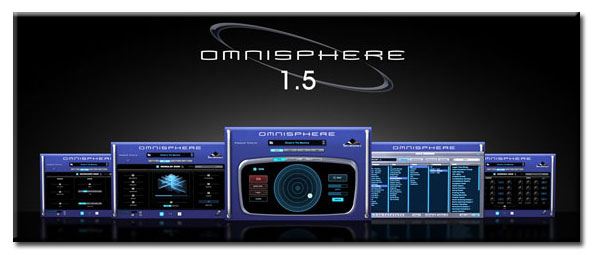 The update also includes many features that have been requested by users since Omnisphere's release back in 2009 including the new 5-Column Browser view and support for polyphonic aftertouch. The new version also integrates a significant update to the factory patch library, taking advantage of all the new sound design capabilities and bringing the total number of included sounds to a whopping 8,000!
Eric Persing, the Founder and Creative Director of Spectrasonics, said "Our goal for Omnisphere has always been to make it the 'best of both worlds' – awesome sounds AND a dream instrument for sound design. As longtime synth geeks ourselves, we are just as excited as our customers to see how Omnisphere is growing and evolving as a synthesis platform. We're really looking forward to hearing how our users explore the new sonic worlds this version opens up. I think it's some of our best work yet."
Omnisphere 1.5 is set to be released on February 15th, 2011 and will be available to download free for all registered users.
Introducing the Omni TR ipad app!
Spectrasonics kicked off NAMM 2011 by announcing a new free iPad app which introduces their 'TR' (Touch Remote) concept. Combining the physical advantages of the iPad's touch surface with Spectrasonics' powerful Omnisphere virtual instrument, the Omni TR app will create a true hands-on experience allowing musicians to activate patches, tweak filters, re-mix, bend and spin amazing performance possibilities from the innovative new ´Orb´ circular controller all with the tips of their fingers!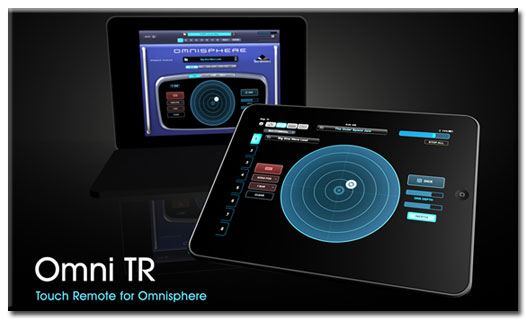 Of the new app, Spectrasonics Founder and Creative Director Eric Persing said: "One of the big differences between software and hardware synths is the feeling of hardware that´s so wonderful. With the iPad and our new Omni TR app, we are excited to bridge that gap and bring the sense of touch to state-of-the-art virtual instruments like Omnisphere."
The app is designed to work with Omnisphere v1.5 and will be available to download for free from the App store on 15th February (pending Apple's review).
Spectrasonics' Eric Persing develops custom-built state-of-the-art contest prize
Not content with developing highly innovative updates and iPad apps, Eric Persing also had a rather unique presentation to make at NAMM 2011 with the unveiling of the OMG-1.
In collaboration with the Bob Moog Foundation, this custom built one-of-a-kind ´instrument´ was designed by Eric as a live performance instrument and boasts a Moog Little Phatty analog synthesizer, two iPod Touches, two Apple iPads, a powerful Apple Mac Mini computer, Spectrasonics Omnisphere, and the brand new Spectrasonics TR App – all integrated into a beautiful, hand-crafted curly maple cabinet created by American artisan Daniel Auon.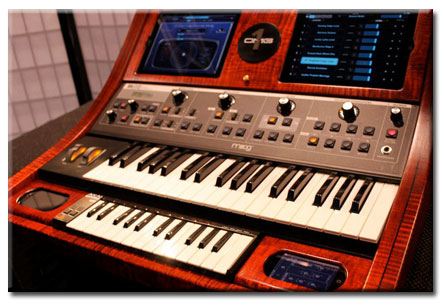 During the special sneak-preview presentation at the show, Eric gave a live performance with the OMG-1 and said, "I'll never forget the first time I played a Minimoog when I was a little kid…it truly changed my life so it's a privilege after all these years to give back to the foundation honoring my hero Bob Moog and keeping the spirit and history of his inventions alive for the next generation. I had a blast designing the OMG-1 with Dan and I can't wait to see who wins it!"
Eric is donating the instrument as the grand prize to an upcoming contest that will benefit the Bob Moog Foundation – more details for which will be announced on 15th March. There's no doubt that this is a 'money can't buy' prize!