Thesys and Consequence are now available in brandnew versions, with incredible new features. The new Midi Drag and Drop feature allows to drag the pattern directly into a midi track or to your desktop! That makes work a lot easier and invites to new experiments.
In Consequence you can even create a multitrack midi file, to trigger different sound generators with the individual Consequence instruments. It has never been so easy to create driving chords, rich string ensembles or intelligent, polyrhythmical harmony structures. Thesys will amaze you with the new Gate Time Multiplier and a overhaulted modulation section and the Standalone turns your computer into a Step Sequencing Monster with lots of Midi related features, Audiorecorder and the "Check for Updates" function that will keep all your Sugar Bytes products fresh.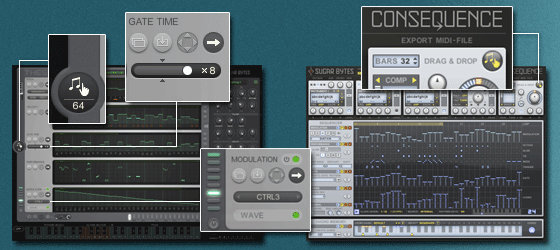 Effectrix 1.4.2 is now available. All known bugs are fixed and a standalone version was added. And … Mission completed! All their products are now available as 32/64bit plugins and standalone version for Mac OS X© 10.4+ and Microsoft Windows©.