Tone2 Audiosoftware have announced the availability of a free update for Gladiator 2. Gladiator 2 gives you a groundbreaking approach to sound generation, while supporting an extensive list of synthesis methods including Tone2's award winning Harmonic Content Morphing (HCM)HCM uses a large, expandable collection of standard and resynthesized waves, these waves can be modified in real time, altering their harmonic structure. The innovative HCM synthesis covers new and unique aural territory, only possible with Gladiator.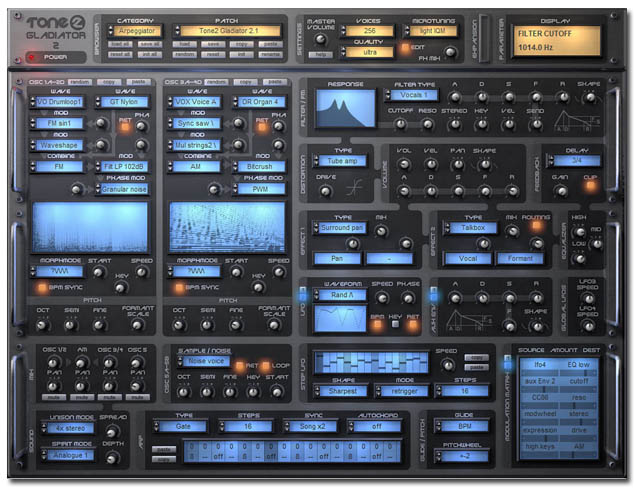 New features:
64 bit version of VST plugin for PC
Standalone version for PC
SSE2 support
Scroll-bars in standalone version for lower resolution displays
Gladiator now ships with 1135 sounds (30 new ones have been added)
Progression and Workstation soundsets now have their own patch browser category
Improvements:
Improved compatibility for Windows7 and Vista Systems
Improved sound quality: Better psychoacoustic processing and cleaner sound
Smart installer automatically fixes possible Win7 compatibility VST folder problems
Slightly improved usability and workflow
Slightly lower CPU
Important pop-ups are always displayed on top
More precise fine tuning of knobs with shift+left MouseButton
Changes and fixes:
Editor is large by default
Workstation & Progression banks can now be installed by placing their GLB file in the plugin folder
Minor GUI and audio fixes
Workarounds for some known host bugs
Fixed a bug in 'sin spirit mode'
For more information please visit the Tone2 website.