Harmony Systems announced the worldwide availability of Delora gbTouch 2, an iPad application that functions as a remote controller for the Apple GarageBand Mac application program. gbTouch 2 adds significant professional style control surface features, and the ability to change the look of the app with a simple preference setting.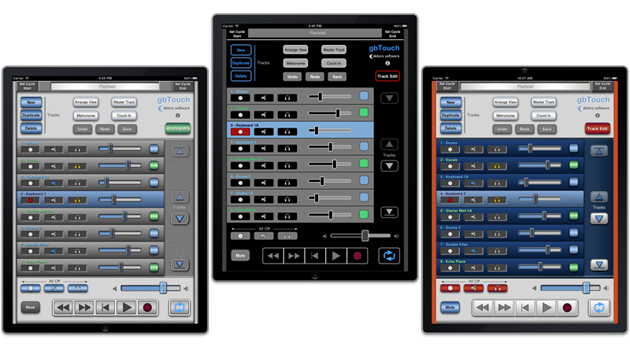 New Features & Benefits
gbTouch 2 includes the most requested new features by gbTouch 1.0 users: track names and color-coded track type. Tracks now have individual volume faders that adjust and show each trackÕs current volume setting. A "sound generator" edit panel has been added to tweak software instrument details, and all edit panels now show the corresponding track name.
gbTouch 2 also has an unexpected bonus feature: the look of the app can be changed to one of four styles from the iPad Settings application. Users can stick with a favorite or vary it frequently to feel like they've got a new product. Consistent with all Delora iPad applications, gbTouch 2 is optimized for both landscape and portrait orientations in all theme styles.
Where gbTouch Shines
Besides supplementing the use of mouse and keyboard to control GarageBand, gbTouch also serves as a Òcontrol surfaceÓ for GarageBand. It makes music creation more productive and allows control of the GarageBand Mac application program from anywhere in the studio. This flexibility is particularly useful in recording situations. The individual track controls – record, mute, solo and volume – and transport buttons on gbTouch allow the songmaker to easily adjust and evaluate tracks before heading into the mixing session.
gbLink 2.0 Makes it Happen
gbTouch 2 requires the installation of gbLink 2.0, a small OSX application, on a Mac. gbLink provides the ability for gbTouch to communicate with GarageBand using a Wi-Fi network. gbLink is free and available for download at the Delora website, www.delora.com.
Pricing & Availability
gbTouch 2 is available for $7.99 on the App Store, and is a free upgrade for existing gbTouch 1.0 customers.