The makers of Effectrix have a new audio manipulation effect in the works: TURNADO! Turnado is your new multi-effect tool crafted especially for massive and real-time audio manipulation, providing countless truly unique effects, creating sounds unheard of every time you turn it on.
Turnado is both: hands-on stage performance boost and serious tool for studio perfectionism, giving you direct control of up to 8 different effects at any given time, with a total of 24 effects available.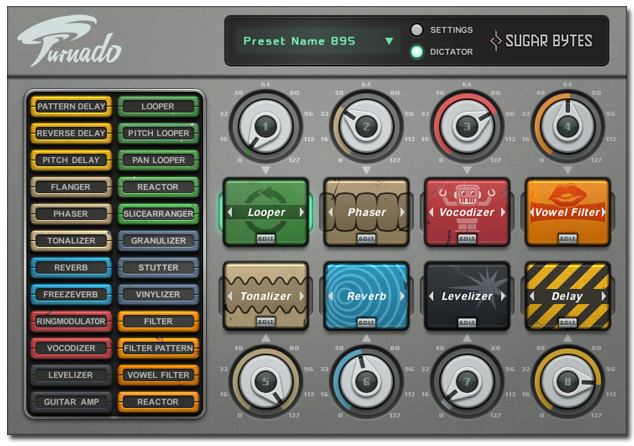 The idea is simple:
– Turn a knob and the effect is on.
– Turn the knob further and effect parameters start to move and modulations start to apply.
– Turn it down and the effect is off.
– This one-knob-action fits perfectly for all kinds of studio or stage situation where you bang your midi controller creating wicked breaks to let the crowd dance even harder.
While each effect provides one knob to control it, underneath that easy cover you find effect parameters and modulation engines to be controlled by the main knob in all thinkable ways, which makes loading an effect just the starting point of the way you can go with it.
The powerful "Dictator" mode allows you to animate all main knobs and run that animation with just one fader.
This way you easily create and control complex effect layerings and arrangements in a new and inspiring way.
Inventing the Turnado effects, the main focus was on beat manipulation, and you will find a lot of loopers, slicers and graintools, as well as distortions, filters and firstclass delays and reverbs. With the extensive modulation possibilities, each effect covers millions of unbelievable sounds that turn into something new anytime you turn the main knob. Turnado is inspiring you again and again with completely new variations of your original sound and groove. Turnado comes for Mac/PC as Standalone application and VST/AU plugin.
Price: TBA