Last april we met the people of sE Electronics at the MusikMesse where they showed us their new Egg monitoring system. Oddly shaped but most intriguing and definitely interesting sounding. A few weeks ago we got an invite to the sE Electronics HQ in the UK to learn more about the company and also the soon to be released Egg Monitors.
So by invitation of Total Sonic and sE Electronics we traveled to the UK for an update on the company but most of all a closer look and listen to the new Egg monitors. This meeting was held for dealers to get an update on the marketing strategies and new products by sE Electronics.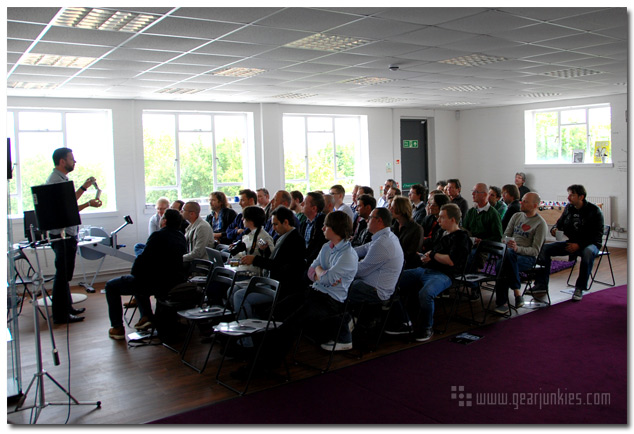 Introduction
We all got a nice welcome by the companies CEO mr. James Ishmeav-Young, who gave a nice introduction to the company and its vision. In summary, sE Electronics will stand for reliability, quality and above all honesty. The impression of being an OEM company is completely false, mr. Ismeav-Young emphasized, even if the manufacturing is done in China.
(mr. James Ishmeav-Young – CEO)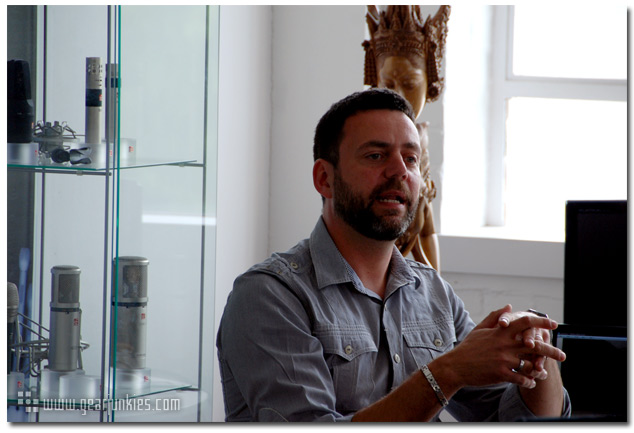 Vision and Goals of sE Electronic
sE manufactures everything themselves, from the microphone membrane to the packaging case. This makes production more expensive and margins lower. mr. Ishmeav-Young told us this was a deliberate choice. Their products are manufactured like, for example, Brauner and Nuemann. sE strives for the same quality as the big brands, but for a lower price. Goal is to be on that level within 10 years. High quality products against fair prices!
Marketing and 'The Future'
sE Electronics will be implementing their ambitious new marketing strategy in the near future. They have allocated a decent budget for this. A new website will be launched soon and several endorsements have been made with artists and studio engineers worldwide. Video will be playing a big role in the promotion of sE products.
sE Electronics future does come with new products. And not just in the microphone market. Next to existing studio mics, instrument and vocal mics, sE will be releasing a series of video and lavalier microphones. Other new products will be a series of headphones, which probably will be presented at next years NAMM.
(mr. Andy Munro and mr. James Ishmeav-Young)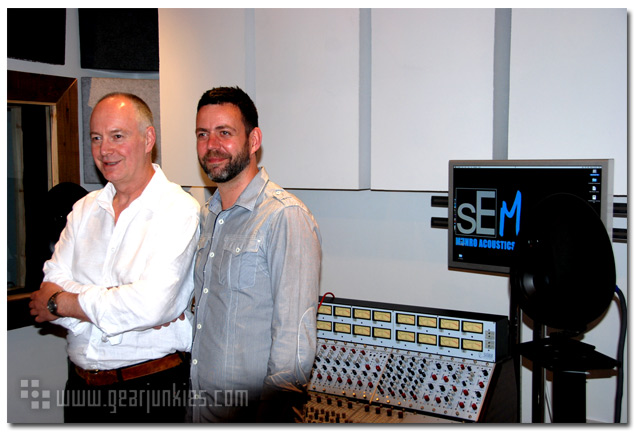 The Egg Monitor
After having a nice lunch we got what we actually came for, the new studio monitors by sE, the Egg. The introduction of this new monitor was done by its designer mr. Andy Munro, with whom sE has started a partnership. He started with an introduction to acoustics and his view on this matter. As he has many years of experience in building studios, the Egg benefits of this huge experience in acoustics.
sE's goal was to manufacture a monitor that sounded great, obviously, but with a fair price. Aimed at the studio market, be it a home studio or even a professional studio. The fact that these monitors look like an 'egg' isn't pure coincidence. A certain professor Olsen proofed in a studio that the shape of an egg would be the perfect shape for a studio monitor. This worked out great for sE Electronics because now they could develop a distinctive and good looking monitor.
The Egg isn't the loudest but certainly the most honest sounding monitor at the moment. The Egg system has been designed in such a way that the energy is absorbed within. Much thought has gone into this during the development. The sound follows a spiralshape on the inside of the monitor which results in a very realistic and 'truthful' sound.
As the phase response is very good, so is the frequency response, without a big influence of the surrounding space (room). Acoustics will always play a big role in a studio. A room gives you back what you put into it. On average a room uses only 1 percent of the low frequencies, the rest is lost. A good acoustic can solve much of this.
This 'flat' respons is due to the electronics. Everything about the monitor is analogue. There is NO use of compression, DSP or other digital techniques to make the monitors sound better or adapt itself to the room, as often this doesn't work at all in practise.
Another important issue is the placement of monitors. The Egg monitors have a blue LED which you can use as a tool for the right placement of the monitors. When the blue LED shines perfect then the Egg has been placed right. So no need anymore for pieces of string or rulers. The LEDs can be pretty bright so a cover comes with them.
Many manufacturers manipulate the bass response for creating a 'nicer' sound. The monitor sounds 'fatter'. The Egg monitor takes bass lifting in account in a room. You have the option to reduce this bass lifting with 3 dB. This way you get a typical Yamaha NS10 sound, however designer mr. Andy Munro assures that this is not a NS10 copy!
The monitors from the factory in China are being tested thoroughly. Each monitor has to be outstanding. They don't just put matching pairs in a box. If for some reason a monitor breaks, a new one might sound different. That's why they put much effort in these tests so any failure is reduced to a minimum.
During tests in studios built by mr. Munro, and on monitor systems in these studios, it became clear that the Egg monitoring systems performed just as good as 50.000 Euro systems. But … hearing is believing!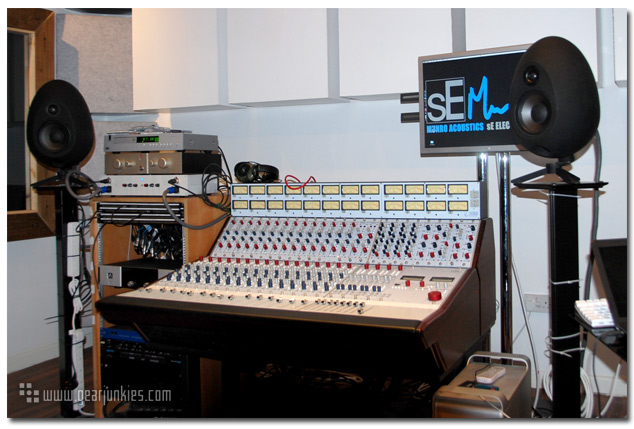 The Egg is a passive monitor and is delivered with a custom made amplifier and cables. The connection of the monitor works via 'speakon' and it is definitely not the intention to hook up your Eggs to any other then its own custom amplifier!
After this elaborate introduction to the Egg monitors it was time to listen to them 'in the flesh'. In a studio at the sE Electronics Head Quarters the Egg monitoring system was set up with a prototype of the final version of the custom amplifier. The monitors were placed on a stand and it is advised to do that in your own studio surroundings as well.
The Sound
To put the experience of hearing the Egg in one word: … WOW! The monitors sounded incredibly detailed, open and clear! Listening to a badly mixed Nirvana CD, you could hear some resonance in the mid frequencies. Almost like the mid tones were in a fight with the high frequencies. However when we switched to a CD (with modern pop music) someone in the audience brought with him, it went back to great again. Would the mixing and recording techniques from the 1990's be the reason for this noticeable difference in sound? Who knows… Sadly there wasn't some modern dance or hiphop music so we could hear it in action with some big lows. But that's ok, now we have some music to test when we get to do our own gearjunkies review!
For extra low sounds sE will introduce a 'sub' in the future. Other plans are the introduction of other monitors. Smaller ones for post-production purposes for example, next to the aformentioned plans for monitor headphones.
Pricing and availability
For the Benelux the price will be set at 1499 Euro (ex. VAT). That's per pair, with amplifier and cables included! sE Electronics is expected to start shipping in august later this year.
Conclusion
sE Electronics have developed a fantastic monitor. As a company they have set a goal that sounds stable and honest. Another interesting fact is that there are also more products planned that sound very interesting. However the main result of this visit is that we really can't wait to get our pair of Eggs and start testing them!
Many thanks go to the dutch distributor Total Sonic and sE Electronics for the invite to visit their headquarters and letting us experience the sE spirit ourselves.
Marc van den Hurk