HGFortune's famous and by some deeply beloved swamp thing has risen to new dimensions! – Ultra Swamp is completely reworked version of Swamp so there are a quite a few differences to the prior versions and a hugely increased sonic potential! It's really for the good, the bad and the weird sounds thus ranging from sweet over dark to really strange stuff; transforming the wave samples beyond recognition.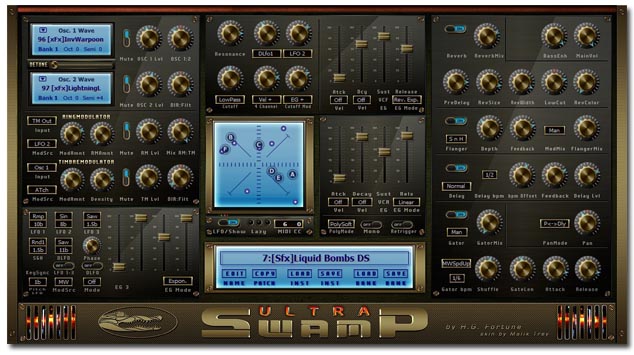 This is a swamp where you throw something in but get something more useful out again 😉 and it's not just for pads and atmos but also for snappy percussive and sequencer sounds.
Although it does look not a very complex synthesizer – don't let yourself get fooled by this as the sonic results will proove different. This is a very versatile synthesizer but is fairly easy to edit. The patch programmers had so much fun with it they did 3 additional complete banks of incredible patches!
Main features (based on Pro version):
2 x PCM wave oscillators with 256 waves in 2 banks as primary soundsources
1 x Ringmodulator per voice as 1st secondary soundsource
1 x Timbremodulator per voice as 2nd secondary soundsource
1 x Filter – 3 types (LoPass, HiPass, BandPass) ADSR EG with Vel control on Attack & Decay, and 3 Response Modes
1 x 4 channel adaptive mixer for cutoff modulation
1 x VCA EG (ADSR) Vel control on Attack & Decay, and 3 Response Modes
1 x Pan
3 x LFO
1 x S&H
1 x DLFO (Double LFO with two outputs and phaseshifting)
1 x special Pitch LFO with Speed Up/Down options
1 x ADSR EG as modsource for RM / TM
1 x Gator not only on Level but optional for Filter and delay Pan too
1 x Delay with several options for panning delayed signal
1 x Stereo Flanger
1 x Stereo Reverb
1 x Bass Enhance
1 x XY-Joypad with 6 controls for 12 destinations and optional display for LFO & Aftertouch motion
3 x Lazy Buttons
12 voices, 512 patches
Ultra Swamp Pro is available at an introductionary offer with 36% off for 24,50Euro/34U$ only until June, 6th 2011. Regular price after that will be for 39 Euro. You may buy the Pro version in the shop VST/i Shop when available. Download a free version from Download Page.