Recently I had the opportunity to review the Numark iDJ3. After that I was able to hook up the Numark Mixdeck and have a closer look at this DJ console. It wouldn't be fair to call the Numark mixdeck the iDJ3s 'big brother', because the Mixdeck has much more to offer then just being a big brother. Just take the CD players, the analogue mixer, the connections for mass storage devices together with the touch sensitive jogwheels, the 3 bands EQ, many more INs and OUTs for use in clubs or a drive-in. This whole package makes the Mixdeck much more then just a 'big brother'!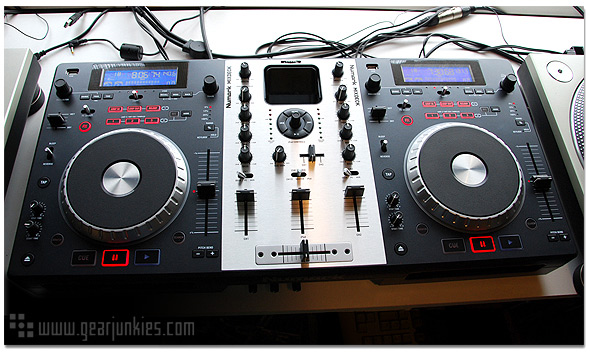 The first thing you'll notice from the Mixdeck is its size. this is definitely not a small controller/mixer. It isn't a controller from, say, 5 years ago where everything is packed on top of eachother. The Mixdeck gives you room for movement. Another feature that will catch the eye is the iPod docking station on top. Furthermore I can say that the iPod navigation is very easy and quickly clear for a new user. The only thing I missed was a 3 band equalizer or a pitch function. Also, VU meters here would have been welcomed. However this iPod docking station is a very useful feature for fast integrating other music during a set or (drive-in) gig.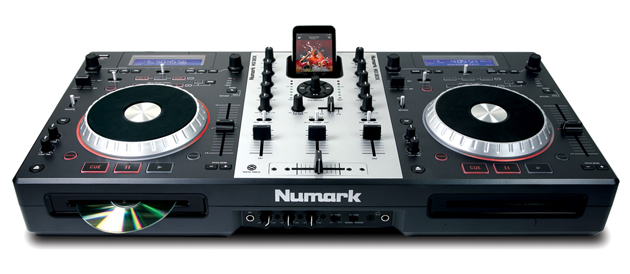 Media players
On to the CD/Media players. I have tested these with an external Hard Drive and with a USB stick and both worked flawless and fast. You can also use normal CDs and MP3s. No matter what media, the Mixdeck can read them all, fast!
Another great feature on the mediaplayers are the effects, which you can activate with a little button. With a fader you set the dry/wet value of the effects. Switching between effects is easy to do with a simple switch. One thing about the mediaplayers I didn't like was the 'scratching'. For some reason it kept sounding 'digital'. It just didn't sound realistic to me.
Mixer
What to say about the mixer? Well not much. Apart from the iPod dock it is a fairly regular mixer. Anything a (decent) DJ will need is here. And any DJ will know how to use it. It is good mixer! Like I said before I do miss some VU meters here. Apart from the 3 Bands EQ on the two line faders there aren't any kill switches. I would love to have them on this mixer…
Connection to computer
When we connect the Mixdeck to a computer, you'll notice that a lot of the standard functions are mapped automatically. For example the switching between effects and the scratching works immediately with the enclosed mapping for Virtual DJ. Of course you can map this device to other DJ software like Traktor or any other DJ software.

Conclusion
The Numark Mixdeck is a DJ console full of little surprises and a lot of useful functions. In this era of Digital DJ'ing and the speed in which developments follow eachother, I think Numark has made a big leap forward with the Mixdeck. If you are a beginning DJ or even a Pro, the Mixdeck would perfectly fulfill your needs. Versatility is a big strength, because if you play with CD, MP3, USB or your laptop, the Mixdeck handles them all!