Propellerhead has released ReBirth 1.1 for the Apple iPad. Version 1.1 supports AudioCopy, which enables pasting of ReBirth tracks as audio directly into other compatible third-party iPad apps. The update is currently available from the iTunes AppStore.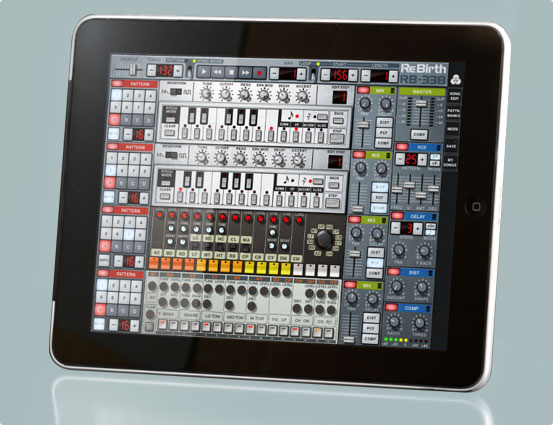 Users of ReBirth 1.1 for iPad now can select AudioCopy then paste their ReBirth song, loop or section as audio into any AudioPaste application. Audio data captured includes tempo info, file format info, the name of the app copied from, duration and more. AudioCopy/Paste apps include StudioTrack by Sonoma Wire Works, Synth by Retronyms, MorphWiz by Wizdom Music, Looptastic by Sound Trends, to name but a few of over 70 applications from 31 companies. More info on AudioCopy can be found here.
Special price drop to $9.99 for May only!
To celebrate the new release of ReBirth along with Propellerhead's Music Making Month, the price of both ReBirth for iPad and ReBirth for iPhone has dropped for May—prices go back up in June. The special prices are:
ReBirth 1.1 for iPad: $9.99 USD /€7,99 EUR (regular: $14.99/€11,99)
ReBirth 1.1 for iPhone: $3.99 USD /€2,99 EUR (regular: $6.99/€5,49)
To get the update or buy ReBirth for iPhone go to: http://itunes.apple.com/us/app/rebirth-for-ipad/id401704148?mt=8
To learn more about ReBirth go to: rebirthapp.com/