Since the introduction of the highly successful Digital Jockey series, Reloop stands for digital tradition and consistent further development on the DJ controller market. With MISSION III, namely the Jockey 3, the Digital Jockey series will be newly defined.
Full Metal Jockey: When holding the new Jockey 3 in your hands for the first time, the sturdy significant metal construction as well as the high-quality manufacturing with nut-inserted potentiometers, smooth-running faders and backlit solid rubber buttons will immediately attract attention.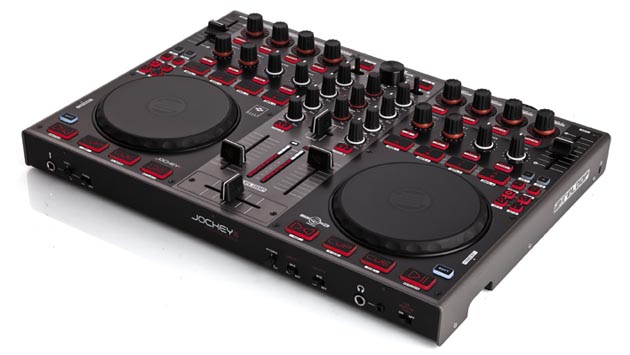 First and foremost this controller is perfectly matched to the vast operation of Native Instruments' Traktor PRO and its 4 decks. However, the Jockey 3 is ideally applicable with any other MIDI compatible software, e.g. Virtual DJ. The ample layout which is optimized for the ergonomic operation methods of DJs, offers intuitive control for a fast and secure performance without the need to touch a computer.
The deck-control section is amply equipped and offers ideal control of all advanced functions for perfect digital DJing with up to 4 virtual decks, whether semi or professional. The newly developed, extremely flat jog wheels with adjustable drag and high resolution with 4096 steps per turn offer unequaled opportunities. Outstandingly precise handling that facilitates control to the split second of every immaginable track during fast-paced club gigs.

Sturdily screwed control dials, extremely smooth-running faders and backlit buttons for visual and tactile status feedback, in full size and club quality, offer every DJ a safe working environment. The solid rubber smooth-touch buttons cater for a direct responsiveness of commands, even after many nightly gigs.
However, the Jockey 3 is still compact enough for mobile transport and application, a true low-profile, professional controller for the daily club grind of travelling Traktor DJs. Mobile DJs will love the possibility to directly connect their analog equipment, such as turntables or CD players, to the Jockey 3. As opposed to many other solutions on the market, the Jockey 3 offers a true stand alone function that can be operated self-sustainingly without a computer – more flexibility is impossible. Thanks to the additional Master Thru connection a second controller can be routed and even monitored; perfect for DJ team setups.
The Reloop Jockey 3 offers a digital mixer section with an exchangeable, extremely smooth-running premium crossfader, sturdy and precise 70mm linefaders, LED level meter, CUE buttons with cue-mix fader, and a high-quality 3-fold EQ. Via metal dip switches -in a classic old school mixer style- two MIDI decks or an analog input can be assigned per channel.
The USB audio/MIDI interface operates with an audio resolution of up to 24 bit/96 kHz on studio standard. The renowned high-end BurrBrown® AD/DA converters give the Jockey 3 low latency, first-class sound characteristics, a vast dynamic range, and the necessary power to rock a club.
The symmetrical outputs offer powerful sound and in the club they can be routed directly to the sound system. Thanks to the ASIO/CORE driver technology for PC and MAC low latency and first-class sound are guaranteed.
With the Jockey 3 a true PRO controller by the German digital forge is put on the market. All favored controller features that facilitate perfect control of Traktor PRO have been kept and developed further in cooperation with competent DJs.
Feature:
– PRO Traktor controller with 4 deck switching system incl. Traktor LE software – from the team that brought you the sucessful Digital Jockey series
– High-end 24 bit / 96 kHz audio interface with BurrBrown AD/DA converters and MIDI interface
– Master Edition: analog sources such as turntables or CD players can be connected directly and also mixed without a computer
– Full Metal Jockey: stable metal construction with bulletproof, 2mm top panel
– Altogether 90 freely assignable MIDI controllers (54 buttons, 6 faders, 13 push encoders, 15 control dials, 2 touch-sensitive jog wheels)
– Perfect control of all Traktor PRO features such as 8 cue points, smart loop-control, advanced effect control or track management
– Perfect beat synchronization thanks to approved Traktor engine incl. iTunes® integration
– Also usable with every other MIDI software, e.g. Virtual DJ
– Dual assignment of all elements due to shift layer
– 4 deck control with trigger switches, classic mixer-style
– MIDI turbo mode updates itself each millisecond for ultra fast transmission and status update
– New, ultra slim and even larger jog platters with vinyl grip
– High-resolution jog wheels with up to 4096 impulses per rotation
– Jog Drag: the jog wheel's drag can be adjusted according to one's performance preferences
– All faders, control dials and buttons are in full-size club quality
– Large, backlit, rubberized buttons with smooth-touch surface and optimized click point for fast triggering
RELOOP