Time+Space, the exclusive UK and European distributor for synth extraordinaire Rob Papen, has announced the release of PUNCH – a brand new speaker busting, body rattling software instrument that combines sampled and synthesized drums with breathtaking features for the contemporary music producer.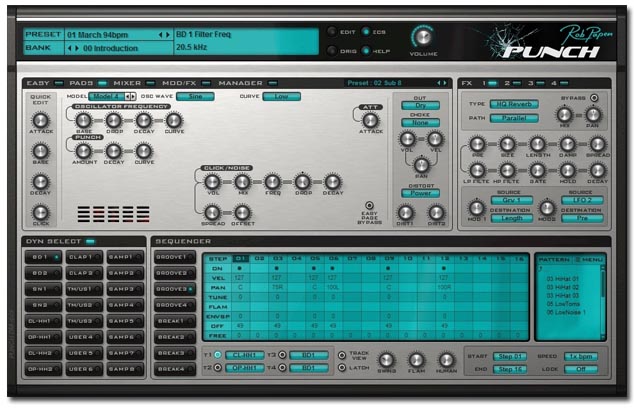 Punch gives producers the power to use the drum synthesis to build their own unique sounding drum kits as well as the ability to load their own samples into Punch to complete their kit. The sounds can be crafted using the stunning features, filters and huge synth power we've come to expect from Rob Papen synths.
Key features:
Drum Synthesis
Features 16 pads (2 bass drums, 2 snare drums, 2 open hi-hat, 2 closed hi-hat, 3 tom, 2 claps, 3 user drum) each with different models and a selection of classic and Punch presets.
Also features 8 Dual Sample slots preloaded with samples and available for you to load your own samples. Each has their own amp / pitch envelopes and filter envelope.
Each drum has it´s own 'easy controls', distortion (20 different models), output destination (to dry or any of the 4 fx channels), and choke groups and can be previewed by clicking in the Drum Review Pad.
Internal Sequencer
Punch has its own internal sequencer that can play eight different patterns of up to 16 steps long. Each pattern is composed of 4 tracks with each track having its own drum output. Users can control the velocity, panning, pitch, envelope speed, flaming, time offset and free row of each step in each track. Swing, flaming time and humanization controls are also available.
Modulation/FX screen
2 envelopes, 2 LFOs and 8 modulation slots, which allow you to use a wide variety of modulation sources to control Punch's parameters. The FX section features 4 FX, each with 26 different tyes of FX.
Mixer Screen
Shows the volume and panning of all the controls, plus the FX mix and panning, allowing you to easily mix the drum sounds.
Easy Screen
Features easy to use sliders allowing you to alter the main controls on the fly during use. All are available for midi-latching.
Bank Manager
Displays all the banks and presets and allows you to load, save, copy and paste them. Also includes a powerful search function.
Punch is available to download now and will also be shipping as a boxed product from around 1st June. RRP: £125.00 / €149.00