Stanton Magnetics, a member of the Stanton Group of companies and an industry leader in the design and manufacture of professional audio products for DJs, is announcing the release of the Scratch DJ Academy MIX! Software. Developed by Scratch DJ Academy, the world leader in DJ education, this intuitive DJ software application helps music fans mix their digital music files while they learn the DJ basics along the way and inspires professional DJs to better analyze their tracks.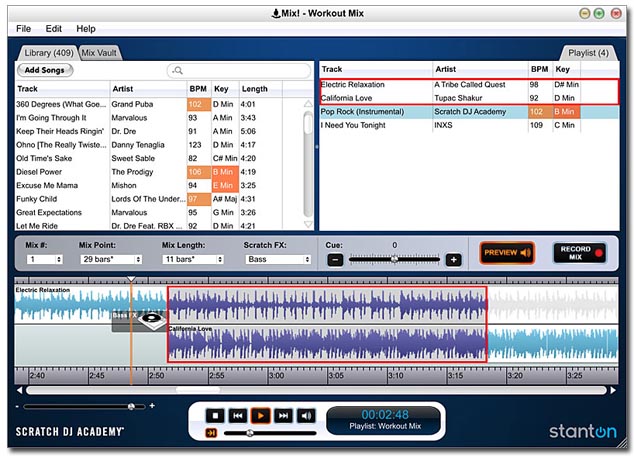 "We are proud to be making a valuable tool like MIX! available to our users," says Stanton CEO, Timothy Dorwart. "By teaming with Scratch DJ Academy, Stanton is providing an intuitive application capable of guiding any DJ or music lover to the perfect mixes of songs in their music collection. For many years this art was reserved for the few that could do this by ear. The advanced technology in MIX! opens up a new world of creativity for all users."
Scratch DJ Academy MIX! helps users create incredible mixes quickly, saving the many hours spent searching for the right tracks. It analyzes users' music libraries and identifies the tempo in beats per minute (BPM) and musical phrasing (bars) allowing these tracks to be perfectly aligned for mixing. The Software also detects the musical key of each song, which is the secret to "harmonic mixing." Based on both the tempo and key information, Scratch DJ Academy MIX! intelligently highlights all the music in your library which works best with your selected track. The mixes can be previewed and adjusted with the addition of a select number of scratch effects, created by the Scratch DJ Academy instructors.
"Most of our beginner students are confused by the DJ software that is currently available in the marketplace," explains Rob Principe, founder and owner of Scratch DJ Academy. "MIX! offers a simple and intuitive way to mix your playlists and learn the DJ basics along the way. The result is an incredibly fun experience and a crash course into what DJing is all about."
The educational content included with MIX! comes directly from the award-winning Scratch DJ Academy course material and includes lessons covering the process of beatmatching, scratching, harmonic mixing and general music theory. This easy-to-learn and highly-valuable training gives both the novice and professional user excellent guidance in the art of DJ'ing and is available at just the click of a mouse. DJ Irie, official DJ of the Miami Heat and official tour DJ for Jamie Foxx, already sees the benefits this new software will have on the growing DJ community.
"It's one thing to listen to music. It's another thing to really understand it and be able to break it down into bridges, intros, bars, snares, tempo and keys," DJ Irie explains. "Scratch DJ Academy MIX! does much of this for you, but shows you the how and why behind a great mix. In addition, for pros it is an investment in their art form, helping indentify creative ways of making their show that much better."
Scratch DJ Academy MIX! makes it easy to create seamless mixes for playing, performing, publishing or simply sharing online. Each mix can be saved and recalled for future editing, letting users build a library of their favorite song transitions. Exported mixes can be played back on any hardware media player including iPod, iPhone, iPad, Zune or from any software-based media player.
Scratch DJ Academy MIX! is compatible with both Microsoft Windows and Apple Mac OS X platforms.
Scratch DJ Academy MIX! Features Overview:
• Accurate tempo (Beats per Minute) detection.
• Automatic Beat Mapping using advanced transient and customized groove analysis.
• Automatic Key Detection, with accurate, cross genre results.
• Playlist Hints highlight all compatible songs using BPM and Key matches.
• Helpful mixing and DJ hints from Scratch DJ Academy curriculum.
• Customizable Scratch FX created by Scratch DJ Academy Instructors.
• Import music by individual song or folder.
• Drag and Drop music with iTunes®, Windows Explorer® and Mac OSX Finder.
• Instant previewing of each song transition, for faster mixing.
• Preset mixing points of where Song B mixes into Song A, making mix placement simple.
• Preset length of each mix to 4-16 bars, or "drop" setting, for all styles.
• Advanced Mix Editing with Cue Adjustments and Waveform View with variable zoom.
• Sessions can be saved for sharing and future editing, enhancing and sharing.
• Volume normalization and automatic Crossfade of mix transitions.
• Integrated MP3 ID3 Tag Editor to make your corrections viewable in other applications.
• Customizable, searchable and sortable list views of your music collection.
• Song Information window with TAP BPM Correction, Beat Grid view and Bar/Beat display.
• Compatible with MP3, AAC, AIFF, ALAC, and WAV formats.
• Completed mixes compatible with iTunes®, iPhone, and iPod. iPad
• Automatic software updates.