IK Multimedia just added the "Black 76" limiting amplifier and the "White 2A" leveling amplifier to their T-RackS 3 Single Effects Processor series. These two mixing legends are now included as an add-on to T-RackS. These prestigious effects are available as single plug-ins for the most popular DAWs or can be integrated in the new T-RackS suite of mixing and mastering effects now updated with 64-bit compatibility both in standalone and plug-in mode.
Black 76 Limiting Amplifier
Modeled after what is probably the most used, most known, most wanted, and most universally recognized compressor / limiter in the audio industry.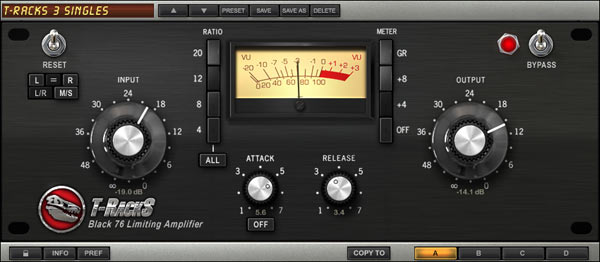 This compressor can be used on literally everything: drums, drum sub-mixes, vocals, bass, guitars, piano, choirs, brass, strings, etc. It adds its sonic footprint to the sound that for many reasons simply makes music sound better. Vocals, for example, will gain presence, consistency, clarity and punch in a way simply not obtainable with other units. Drums will gain power and density with total control over the level of "snap", and guitars will get a magic midrange zone that makes them truly sing. The Black 76 is a must for mixing, but thanks to the perfectly stereo linked version we provide with MS option, it can also be effectively used for mastering if used with care!
White 2A Leveling Amplifier
Based on the most legendary vintage vacuum tube optical limiter.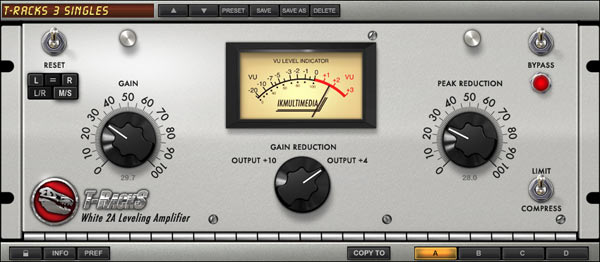 Originally intended for use in broadcasting, it immediately became a truly signature unit for music recording and mixing. It's a must-have for both tracking and mixing vocals, but it's also tremendously effective on electric bass, upright bass, piano, winds and many other tracks where you need a gentle compression with great warmth and consistency. This is one of the few units in the audio industry that nobody will allow to be substituted for anything else.
Main Product Features
Both the Black 76 and the White 2A are available as single T-RackS mixing plug-ins for all popular DAW platforms in RTAS, AU and VST formats. They also give the flexibility to be perfectly integrated with the T-RackS suite of effects as they can be opened inside the T-RackS twelve slot serial-parallel processor chain, both in standalone and plug-in mode, taking advantage of T-RackS advanced routing, metering and preset capabilities. With the addition of these two new classics, T-RackS users will have a total of 12 superior dynamic and EQ effects to choose from including a full-fledged professional metering suite for all of their professional mixing and mastering needs.
Furthermore, T-RackS and all its effect processors have been updated to version 3.5 – now supporting all 64-bit DAWs – and the update is available a free download to all existing T-RackS Deluxe, Standard, shell and singles users.
The T-RackS 3.5 standalone application is fully compatible with the new ARC version 1.3 which also adds native 64-bit compatibility.
Pricing and availability
The Black 76 and White 2A cost only $99.99/€74.99 each (excl. tax) and are immediately available as a download from the IK Multimedia online store or selected music retailers carrying T-RackS Singles in Multibox format.