Pioneer's popular DDJ-T1 controller for users of Traktor software is about to get even better. Hot on the heels of Native Instruments release of Traktor 2, Pioneer will today update the DDJ-T1 software to Traktor Pioneer DDJ-T1 Edition 2.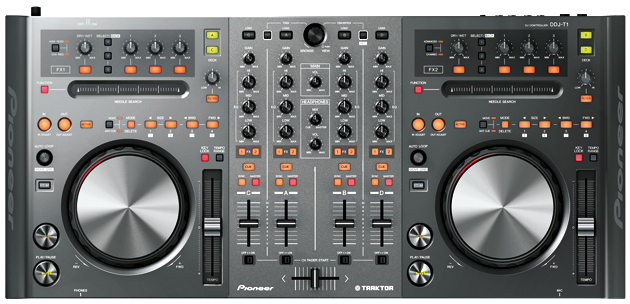 The update includes an improved user interface with a high-resolution colour waveform display and greater zoom levels, for more detailed cue point setting. And the improved synchronisation accuracy makes advanced four-deck mixing even quicker and easier.
The DDJ-T1 controller bundled with the latest software will be on the shelves from late August. If you already own a DDJ-T1 there's no need to wait – download the Traktor Pioneer DDJ-T1 Edition 2 software free of charge from today. And DJs already using Traktor Pro 2 can just plug-and-play with any DDJ-T1 controller.
The DDJ-T1 is the perfect marriage of Traktor functionality and Pioneer's superior hardware. It delivers all the most popular Traktor features, including four-channel deck control, six effects, loop editing, quantizing and recording. And the intuitive layout exactly mirrors the software interface for high-level operability. Pioneer's channel fader-start function allows DJs to cue-start a track using the volume faders on the controller. With plug-and-play connections and an innovative laptop integration design, the DDJ-T1 is the complete solution for Traktor users.
Now this software update brings the DDJ-T1 right up-to-date for an even higher level of DJ performance.
DOWNLOAD NOW
Existing DDJ-T1 owners who have registered their current Traktor Pioneer Edition software with Native Instruments will have yesterday received update instructions from them via email. If not, Native Instruments support is here.
Separately, if you own a purchased copy of Traktor Pro 2 there is a new MIDI mapping (.tsi) file that allows your DDJ-T1 to take advantage of additional features. Visit the following link to download.
NEW FEATURES
Clear, high-resolution colour waveform display
The operability of the DDJ-T1 is even better than before, thanks to a new, easier to use, interface with high-resolution colour waveform display:
The waveform is colour-coded by instrument, making it quicker and easier to view beat elements such as kick, hi-hat and snare and plan creative mixes in advance.
The number of zoom levels on the display has increased from two to an incredible nine for more detailed cue point setting and ultimate control using the job wheel and cue buttons.
In addition to the innovative laptop integration design of the DDJ-T1, which places the laptop screen in DJs line of sight at all times, the improved user interface minimises eye movements for more instinctive operation.
Improved synchronisation accuracy
Traktor's automatic tempo synchronisation is now even more accurate for effortless beat mixing at the touch of a button.