Tone2 Audiosoftware are proud to announce their soon to be released effect plugin AkustiX Enhancer, a collection of enhancement effects designed to complement the mix and mastering process. Each effect is based on the latest developments in psycho-acoustic research and offers multiple ways to customize your recordings by using psycho-acoustic processing to shape and enhance your sound.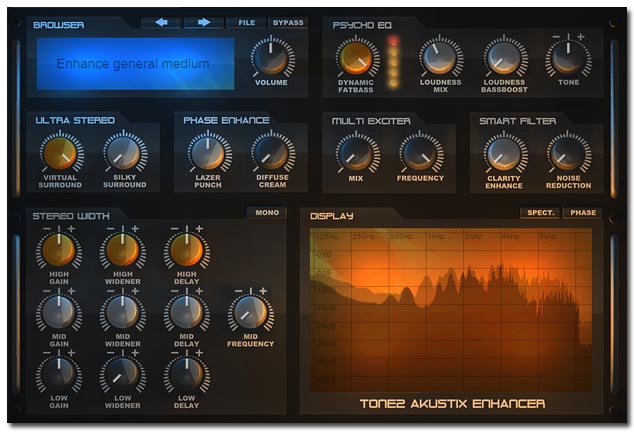 AkustiX Enhancer features six powerful mixing effects:
– Psycho EQ
The Psycho EQ dynamically boosts and equalizes frequencies based on the nonlinearity of the human ear.
– Stereo Width
With up to 3 frequency bands available the stereo width effect uses exclusive new technology to provide
independent frequency control over the stereo width & spatial image without introducing negative artifacts.
– Ultra Stereo
The Ultra Stereo section adds transparency while enhancing perceived spaciousness and auditory distance
within a mix, it can also be used to up mix from mono to stereo.
– Phase Enhance
Phase Enhance masks non linearities and simulates a more natural dispersion and propagation of the sound.
– Multi Exciter
Designed to enhance presence and brightness the multiband exciter adds vibrancy and depth to your mix by
adding additional harmonics.
– Smart Filter
The Smart Filter section enhances transparency and adds more detail by using frequency-domain masking.
Product highlights
Six essential effects to complement your track and mastering process
Add brightness, vibrancy, transparency and depth to your mix
Exclusive new technology based on the latest in psychoacoustics research
Virtual surround processing
Exclusive new Stereo enhancement technology
High-end quality processing
Powerful spectrum analyzer & phase meter to visualize imaging and phase
Restore and revitalize old recordings
PC and Mac versions of AkustiX Enhancer will be available at the end of August 2011.