LinPlug is proud to release its first effect plugin. The relectro is some kind of effect not yet existing, its dedicated to transform drum loops into something sounding substantially different, electronic, strange … suitable for almost any kind of electronic music.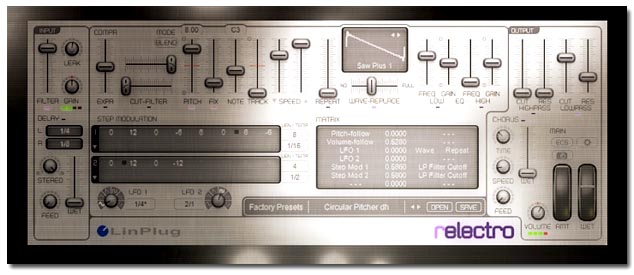 After manufacturing virtual instruments for more than 10 years, LinPlug releases its first effects plugin, the relectro. The relectro is designed to transform single drum sounds and drum loops into something sounding substantially different; as no such effect yet exists, there is no attribute to describe how it sounds. relectro is to be primarily used in industrial, electronic, glitch, experimental, ambient, idm, noise, dub and techno, but will create unique highlights in all kinds of experimental and electronic music.
System Requirements: Mac OSX 10.4 or newer or Windows XP or newer, 1 GHz or higher CPU, 1 Gb RAM, Native 32 bit and 64 bit plugin
Purchase: The license fee is 79 US$ / 59 Euro including a comprehensive 32 page PDF manual in English. relectro is exclusively available from LinPlug and soon in Japan from our Japanese partner Internet Corp.
A demo version, more information and many demo songs are at the Linplug website.