With the coming BPM trade show in the UK starting this saturday, many manufacturers are introducing lots of new stuff at this DJ trade show. After the announcements this week Numark is joining them. Numark will be introducing their new N4 Four Channel DJ Controller and Mixer.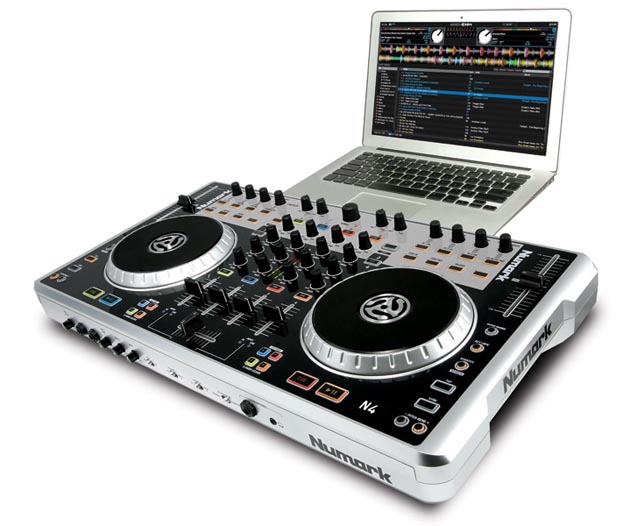 Featuring 4-decks of software control plus a built-in mixer that can be used with or without a computer, N4 is designed for DJs who want powerful capability in a lightweight, portable package. This complete 4-channel controller has everything DJs need to perform at their highest level: large, touch-sensitive platters, 4-decks of software control with loop and effects controls, a built-in USB audio interface and a comprehensive mixer section with EQ and gain. N4 will come with both Serato DJ Intro software and a 4-deck version of Virtual DJ LE.
The N4 DJ controller with a mixer is built for flexible control of virtually any music source. Its built-in DJ mixer allows DJs to mix any external source including turntables, CD players and MP3 players. DJs are able to instantly switch from controlling 4 decks of software to controlling 2 decks of software plus 2 channels of external source.
With the ability to use time code, N4 sets a new standard for 4-channel DJ controllers in its class. In addition to 4-decks of MIDI software control, N4 gives DJs the ability to use their CD player or turntable to control advanced DJ software by employing turntables with time-coded vinyl or CD players with time-coded CDs.
"N4 is going to be an incredible instrument in the hands of DJs everywhere," said Chris Roman, Numark Product Manager. "We're packing innovation, capability and control into a design that looks and feels great."
FEATURES
• 4-Deck controller and DJ Mixer that works with or without the computer
• External mixing (2 CD/Turntable + 2 Mic)
• Built-in professional USB audio interface with balanced XLR outputs
• Large touch-sensitive control wheels
• Serato DJ Intro software included
• 4-Deck version of Virtual DJ LE Included
• Mixer section with EQ, loop and effects controls