The Pioneer DJM-T1 firmware update is about to take DJs even deeper into mind-blowing features of the new Traktor Scratch Duo 2 and Traktor Scratch Pro 2 DJ software. The update introduces Advanced Shift, the gateway to more advanced features with 75 new controls using a second Shift layer on the mixer, almost tripling the number of Midi controls.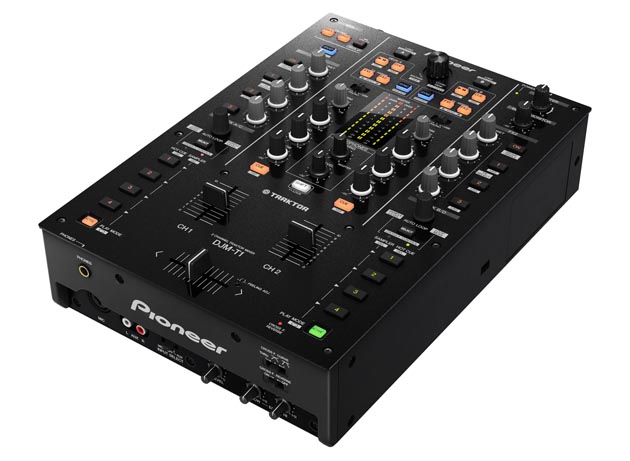 The Pioneer DJM-T1 Traktor certified mixer was already the complete Traktor solution in one unit. A hybrid mixer, controller and audio interface, it perfectly mirrors the included Traktor Scratch Duo 2 software to give DJs control over all the most important performance and playback functions in layer one without touching the computer.

Existing DJM-T1 users could already intuitively control two Sample Decks, four Hot Cues and Loops, six stunning sound FX across two FX units and a MIDI LFO signal output that changes at beat-by-beat intervals for precision effect control. The powerful on-board soundcard and Control CD or Vinyl enable Scratch DJs to start playing straight from the box. And with a USB connection direct to the computer, recording DJ performances or preparing sets has never been easier. Packing more into this mixer, the Shift mode already gave access to another layer of control, like Loop Move, Sample Deck Volume and Editing, Instant Doubles, and more.

Now the Advanced Shift firmware update adds a whole new, third layer of control to the unit for huge versatility. DJs can customise 220 Traktor Scratch Duo 2 features and parameters directly from the mixer, without going into the software settings or touching the mouse.

Advanced Shift doubles the availability of some of the key Traktor functions. Want four FX Banks? We give you four FX Banks. The usual four Hot Cues and Loops can become eight. Plus Advance Shift brings sophisticated controls to your finger tips like Master Tempo, individual Sample clip volume control, Grid and Cue editing along with popular functions like Record.

The Pioneer DJM-T1 with Advanced Shift is the complete Traktor Scratch Duo 2 solution and Traktor Scratch Pro 2 compatible mixer; enabling DJs to take their imaginations to new heights.

KEY FUNCTIONS ENABLED BY ADVANCED SHIFT INCLUDE:
– Control over to two more FX Banks
DJM-T1 users could already assign a total of six sound FX across two banks. But with Advanced Shift mode you can control and assign another two FX banks in Traktor Pro, meaning a total of 12 effects can be assigned and controlled from the mixer.
– Double the number of Hot Cues
Both decks now offer a total of eight Hot Cues and related Loops, and there's control to move the play head around for precise Hot Cue placement.
– Access and input TRAKTOR grid information
It's now possible to access the advanced settings panel for Grid, Cues and Move, directly from the controller and DJs can correct some basic Grid functions, which are critical for the Sync function.
– Adjust individual Sample Deck volumes and modes
In addition to switching samples between One Shot, Loop mode, and adjusting overall Sample Deck volume, Advanced Shift makes it possible to adjust each Sample Slot volume.

PLUS
– Start/Stop recording
– Turn Master Tempo ON/OFF
– Browse your Favourites
– Browse quickly with page scrolling
– Return to the start of the track
– Increase/Decrease the waveform zoom level
– View the advanced deck panel display
– Scroll forward or backward through tracks with the Seek function.