The new Pro Tools 10 software adds major new features to the world's leading digital audio workstation, delivering on top requests from both audio post and music professionals.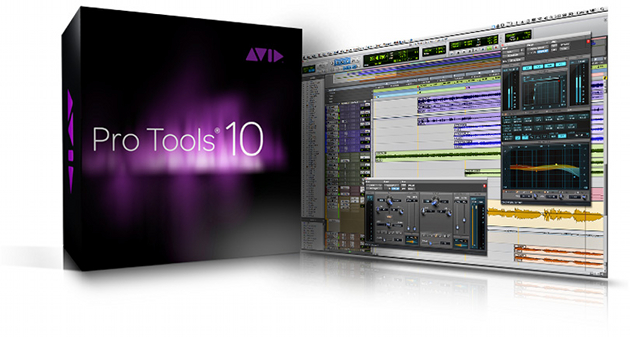 With it, Avid introduces several new tools and timesaving workflows, such as the top-requested Clip Gain, which separates pre-mix levels from Pro Tools software's renowned mixing automation, greatly speeding up and improving the workflow between sound editors and mixers. Customers will also be able to achieve higher sound quality and better performance than ever, whether they're recording, composing, editing, mixing, or playing back their sessions.
Work faster and easier with the most robust tools
Speed up pre-mix and editing workflows with Clip Gain
Experience better performance—even on network-attached or slow local drives—with disk handling improvements and real-time fades
Get more flexibility—and 24-hour timeline capability—when conforming multiple projects into a single timeline
Sound your best, faster than ever
Use multiple file formats and mixed bit depths in the same project—including interleaved—without converting files
Record, edit, and mix in higher resolution with 32-bit floating-point file format support
Get the sound of the renowned System 5 console EQ and dynamics with the Avid Channel Strip plug-in, now included with Pro Tools 10
"Today's audio post and music professionals are faced with evolving challenges and much more demanding productions that require more power, extended capabilities, and better sound quality than ever before," says Chris Gahagan, Avid's senior vice president of products and solutions.
"Pro Tools|HDX and Pro Tools 10 software mark an enormous leap forward in sound quality and efficiency, enabling our top professional customers to deliver their best sounding, most creative work in less time."
Pro Tools 10 software is available worldwide now. Pricing is as follows:
Pro Tools 10 software (full version) retails for $699 US MSRP (please note that Pro Tools HD 10 software is bundled with Pro Tools|HD family systems only, and is not available for separate purchase except as an upgrade)
Pro Tools 9 owners can upgrade to Pro Tools 10 for $299
Pro Tools HD software owners can upgrade to Pro Tools HD 10 starting at $999
More info can be found at www.avid.com