iRig MIDI – the Core MIDI interface for iPhone / iPod touch / iPad is now shipping! With 3 MIDI ports (IN / OUT / THRU), USB micro port for charging your device during long playing sessions, compatible with over 100 Core MIDI apps including GarageBand™ and the free SampleTank and iRig MIDI Recorder app included, iRig MIDI is the best way to get MIDI in and out of your iOS device! Get yours today for only $69.99 /€54.99 (ex. VAT).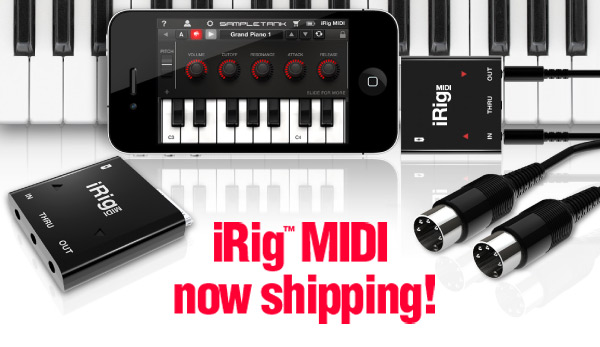 SampleTank – the pro-quality sound and groove module app for iPhone / iPod touch – is now available on the
iTunes App store. With a professional sound set of over 400 instruments and 900 rhythmic and melodic patterns, SampleTank allows you to create album-ready music on your iOS device with quality previously unheard on the platform.
SampleTank is the first professional quality sound and groove module that puts hundreds of world-class instruments and patterns in your pocket. You can play SampleTank instruments on stage with the iRig MIDI interface and a keyboard or pad controller just as you would with a regular sound or synthesizer module, or you can use the built-in tools to create inspiring professional sounding music on the go.