From LA to the streets of Berlin, Audio Injection is back with his first patch collection for Native Instruments FM-8. This expansive sound set contains a interesting blend of drum sounds, sweeps drops, Techno stabs and a slew of deep sounds which you can build up and break down in any modern Techno production.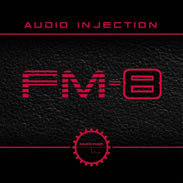 Audio Injection FM-8 can also be great in House, Electro and Minimal House. This patch collection features very digital textures while keeping the sounds warm and very electronic. The FM8 is a emulation of the YamahaTx81z which was a single unit rack mount comprised of 3 Yamaha DX-7. This classic digital synth changed music forever. The FM-8 goes way beyond the original hardware units to give you a modern twist on old classic.
Audio injection has produced a fabulous pack that will add texture and dark underground sounds to your electronic music production.
Audio Injection – FM8 by loopmasters
Everything you hear in the demo is in the pack. Yes even the drums and loops are presets. Each preset can be modified to meet the needs of your musical part or production in no time flat.
The preset loops can be played in any tempo and they are ready for you to tweak them to the next level. If you run the loops thru your filter of choice you can come up with some pretty cool effects while using them in your production.
As an added bonus FM-8 features additional sweeping effect presets from our Sweep pack to give extra relief or tension in your build up or breakdown. Once again ISR brings another cool selection of patches with modern underground attitude.