Eclectic British musician, Patrick Wolf, has embarked on another European tour with a Dante-enabled Allen & Heath iLive digital mixing system managing both FOH and monitors, supported by PA company, Brit Row.
FOH Engineer, Fabrizio Piazzini, selected an iDR10 MixRack for monitors, digitally split using Dante to an iDR-16 for FOH, with an iLive-144 Control Surface at FOH and iLive-80 for monitors. A third MixRack, an iDR0, will provide the I/O for live recording via the Dante network, controlled from FOH. No additional hardware is required as Audinate's Dante virtual soundcard is installed on laptops to run multi-track recording software, Reaper.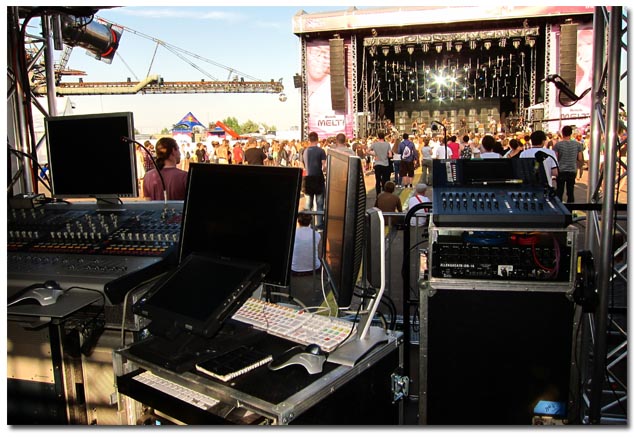 "Patrick has a very elaborate style, so it's great the iLive system has a lot of headroom and you can really drive the inputs. Even if he goes nuts and plays really hard, it's not going to start distorting. With other systems, you would have to set your gains lower because you know you'll start running out of headroom," explains Piazzini. "All of the on-board effects are fantastic too. I use the Hall 480 and Chamber on strings and Patrick's vocal, tap delay, and there's a great gated-plate for the snare."
Piazzini has been using iLive for some time with Patrick Wolf, completing a tour of Europe in the spring, a string of festival dates over the summer. Occasionally, the production swaps larger surfaces for the ultra-compact iLive-R72 rackmount surfaces, which they can fly in for festival dates and smaller venues where space is a premium, and hire iDR-48 MixRacks locally.
"At festivals, we often don't get allocated a lot of space on stage or FOH. When we tell the organisers we're bringing our desks, they are often skeptical. However, if we mention the desk is only 19-inches wide and that's all we need at FOH or on stage, they say it's fine," comments Piazzini.
The band plays a range of string and wind instruments, and generates up to 37 inputs. With the possibility of 50 songs in the repertoire, it is essential to have snapshots saved for recall.
"One musician in the band, for example, plays sax, bass clarinet, clarinet, flute, guitar and piano, and it can become pretty tricky to mix. If a set list changes, the MD can talk to everyone – including me at FOH – using a switch mic. The same applies with the backline and monitor guys, who can all communicate if any problem arises," Piazzini concludes.