It finally arrived last month, the Native Instruments Kontrol S2 Midi Controller. Just before the BPM show in England it was revealed online by Native Instruments. Because of its price and smaller size, it's being seen as "the smaller brother" by many. In this case Native's top controller, the Kontrol S4. We quickly started playing…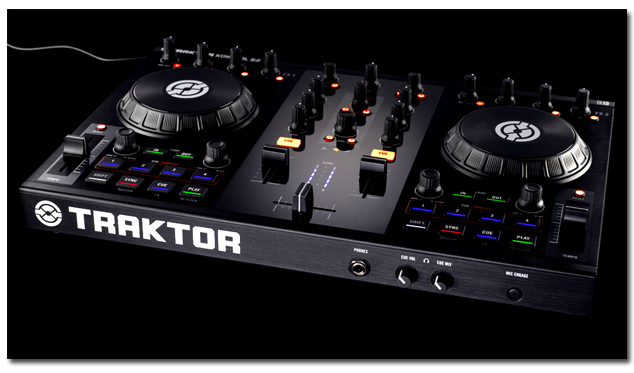 First impression
As soon as you open the box you immediately get your hands on a controller that looks like the S4 but you also notice that it is a lot smaller. Actually a lot better manageable. If you would want to, you could take the Kontrol S2 with you straight away. Despite of it feeling smaller, it feels firm and solid. The first thing you do next is turning and feeling the knobs and these also feel great. The faders and panpots have the correct amount of resistance; the jog wheels are great to touch as well. It all feels like home, exactly as we can expect and what we're used to from Native Instruments.
Mixer
As his name implies, the Kontrol S2 is a two-decks controller. Native Instruments themselves call it a 2,1 channel system. With this they mean you get two decks with mixer control alongside several control options for the multi effects unit of the device and a third channel for your samples. Because of the S2 having less options than the S4 controller you can only use two track decks, so for the other decks you are totally depending on your sample decks.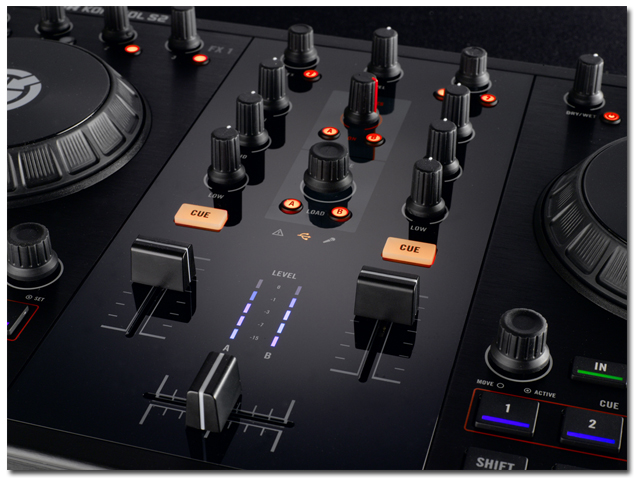 The two high-resolution jog wheels are touch sensitive and you can use them for track search, pitch bend, correcting your track and of course for scratching. They can be remapped for controlling your effects. When using them for the first time you will have to calibrate them with Traktor but in our case this was fixed in no time. Then of course there are the usual twin-channel faders, your cross fader, headphone pre-listen cue knobs and a three band EQ. You have two fx units per deck.
I have to say that I would have liked the filter buttons to be on there, just like with the Kontrol S4. This would make the use of FX during a set more alive. Just like the buttons for the sample decks, which didn't survived the slimming down from the S4. (Marc did mention that this is probably because he owns a S4 himself and that he's very fond off these functions.)
Software
The beautiful thing about the Kontrol S2 is that it is delivered with a full version of Traktor Pro 2. It goes without saying that the controller it's main purpose is to be used with this DJ software of course. Even though it
is a general MIDI controller, it will certainly work best with Traktor. Because of this you have to see the S2 more of a complete DJ system since you are getting the software delivered with it and thus there are no extra costs on the software end.
As soon as you turn on the Kontrol S2 and Traktor opens, the controller works in a pre configuration mode. The more experienced DJ/user can tweak this configuration to his/her wishes but the beginner and definitely new Traktor users will definitely use this pre-configuration for the time being. Until you find yourself a bit more familiar with the controller and the software.
Sound
As you expect the Kontrol S2 also has a built-in audio interface. And here, again we can say it's magnificent. Native Instruments has sufficient experience in building audio interfaces so the quality is again a very high standard. We didn't expect anything else! Just for the record some details: the S2 has high-end Cirrus Logic AD/DA converters, hi-gain balanced TRS outputs with 24-bit/96 kHz audio. You can definitely take this home, or to the club of course!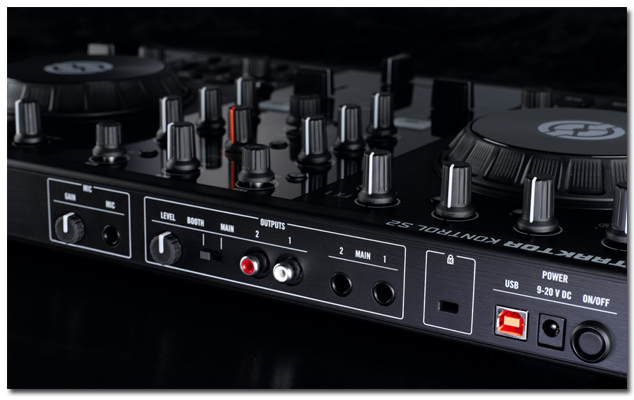 Conclusion
We started by stating that by many people the S2 is being seen as the Kontrol S4's little brother. Is that a correct point of view? Yes and no. It's appearance is similar to the Kontrol S4 but oh well… that's evident of course. It has less functions but that doesn't necessarily means that it is less of a controller. On the contrary even, the S2 has because of its price and quality enough credits to be called a worthy controller. This controller is a very good alternative for the beginning DJ or the DJ who wants to make the jump to 'digital DJ-ing'. Especially since you are getting the Traktor Pro 2 software with it. And lets be honest about it, this is at the moment THE standard when it comes to DJ software.
Eric Thoolen / Marc van den Hurk
A special 'thank you' goes out to Camiel Daamen (Dancefair) and Native Instruments.