There have been already a lot of rumours about it, now it is official: Nektar, the California based new brand for Advanced Control * Enhanced Workflow Controllers annouce Panorama P4, the first dedicated Controller Keyboard for Propellerhead Reason. This couples with a great prize competition. Musicians can win the very first Panorama P4 rolling off the production line, by submitting their competition entry at www.nektartech.com.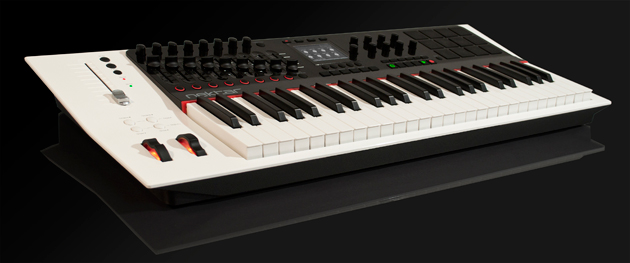 Panorama P4 is Nektar's vision of how a great controller keyboard should work. As there are many controllers on the market already, it is still a challenge to find one that offers the feel and flow of operating the software, as if it's hardware.
Panorama P4 uses a communication protocol that has been custom designed for Reason 6, putting control – every control – at the musician's fingertips. Panorama, in addition, of course also features traditional MIDI controller capabilities, including a MIDI output, so its possible to switch between the virtual and a hardware instrument rack in real-time. Panorama P4 really provides access to all areas.
Panorama P4 will be shown to the public for the first time at the NAMM Show 2012 in Anaheim, January 18th – 21st 2012 at booth #4912.
Now it is possible to win the first ever made Panorama P4.
And the rules are simple: Answering the the questions and including one's real name and email address.
The competition will run until NAMM and if more than one submission got all answers right, Nektar will pick the winner through a random draw. As there is one question even Nektar do not know the answer to yet, everybody is invited to make a good guess.
Panorama is expected to be available in Q1 2012. Price tba.
More Information you can find at: www.nektartech.com